New Jerusalem
I've been toying with attempts at visualizing the New Jerusalem as described in Revelation and hinted at elsewhere thruought the Bible. I realize this is an ultimately unachievable aspiration, but here we go.
If you have comments or feedback, feel free to leave it here. If you'd like to commission a custom 3D model, I can help you with that.
General Structure Concepts
The City of God is described as being "made without hands" as well as being the "city on a hill" "laid out as a square" and parallels the "mountain of God" which suggests to me the idea of the pyramid.
A pyramidial New Jerusalem with an unconventional foundation stone configuration. We are informed that there are twelve foundation stones, but not how they are configured. Here I show a quartet of equilateral triangular stones. Looking at it now, it might work better with the lower stones extended up to the edges to connect with the three gates on each edge.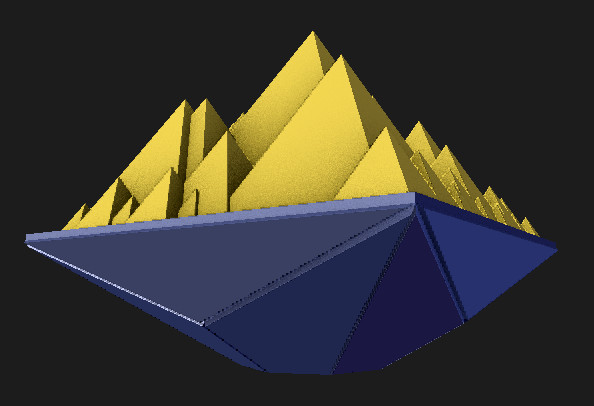 I was playing here with more of an octahedral shape, and the inversion of gravity on the bottom half, with gargantuine circular gardens on one side. I kind of like this design, though I don't think it accurately represents what the Apostle John saw in his vision.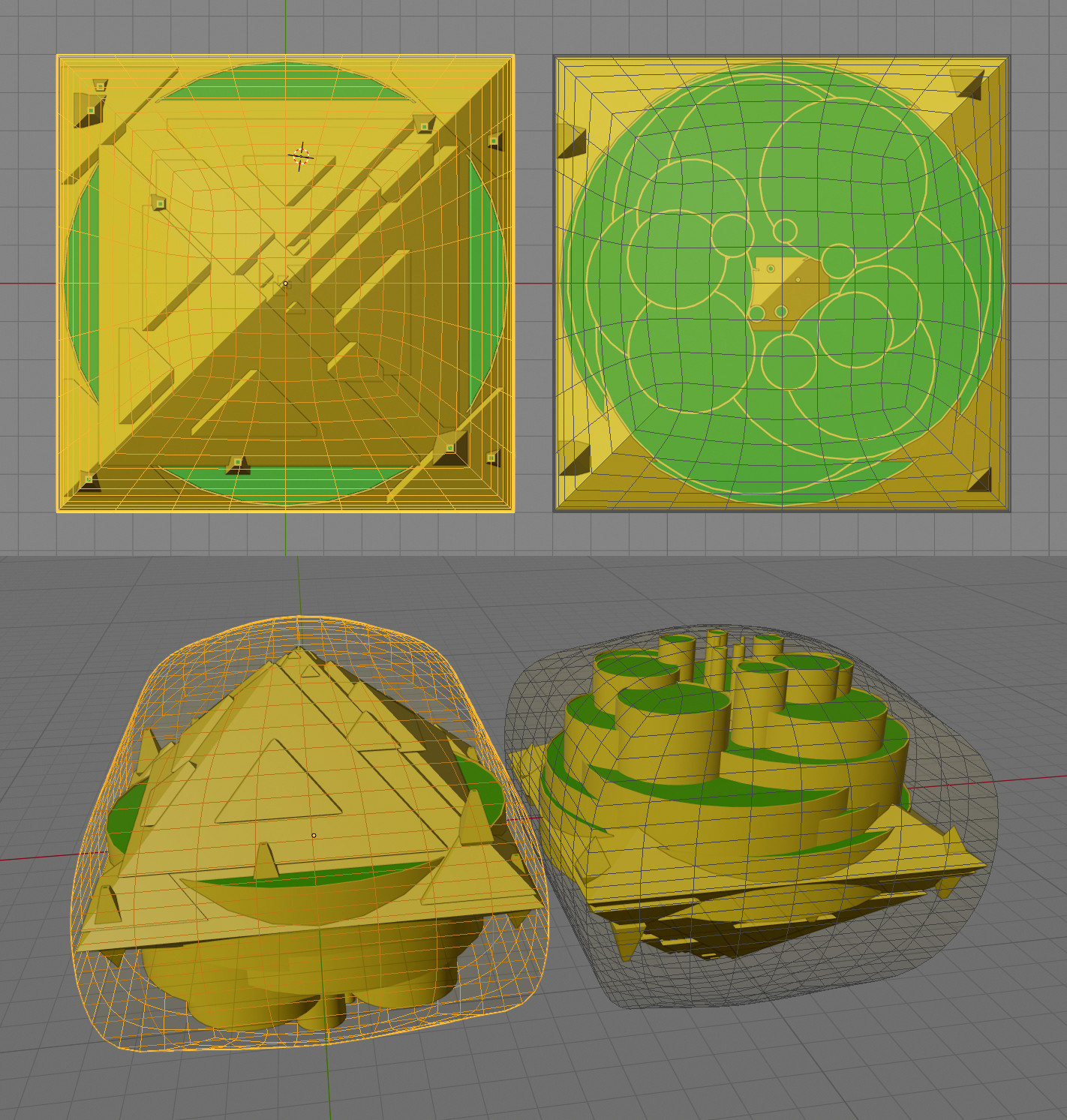 Midjourney Visualization
I searched the Midjourney image generation AI records for New Jerusalem, and sure enough, there were a lot of results.
Right off the bat this is super thematic, inspirational, aspirational, and unconventional. There are a few problems though, primarily that the city looks more steel than gold, and the biblical tradition doesn't seem to be inclined toward towering spires.
Prompt:
new Jerusalem in the millenium kingdom, magnificent futuristic cityscape, with sleek skyscrapers and futuristic transportation, a large waterfall cascading in the center, and an enormous tree towering over everything, capturing the vibrant energy and harmony of nature and technology, Photography, shot with a wide-angle lens, --ar 9:16 --v 5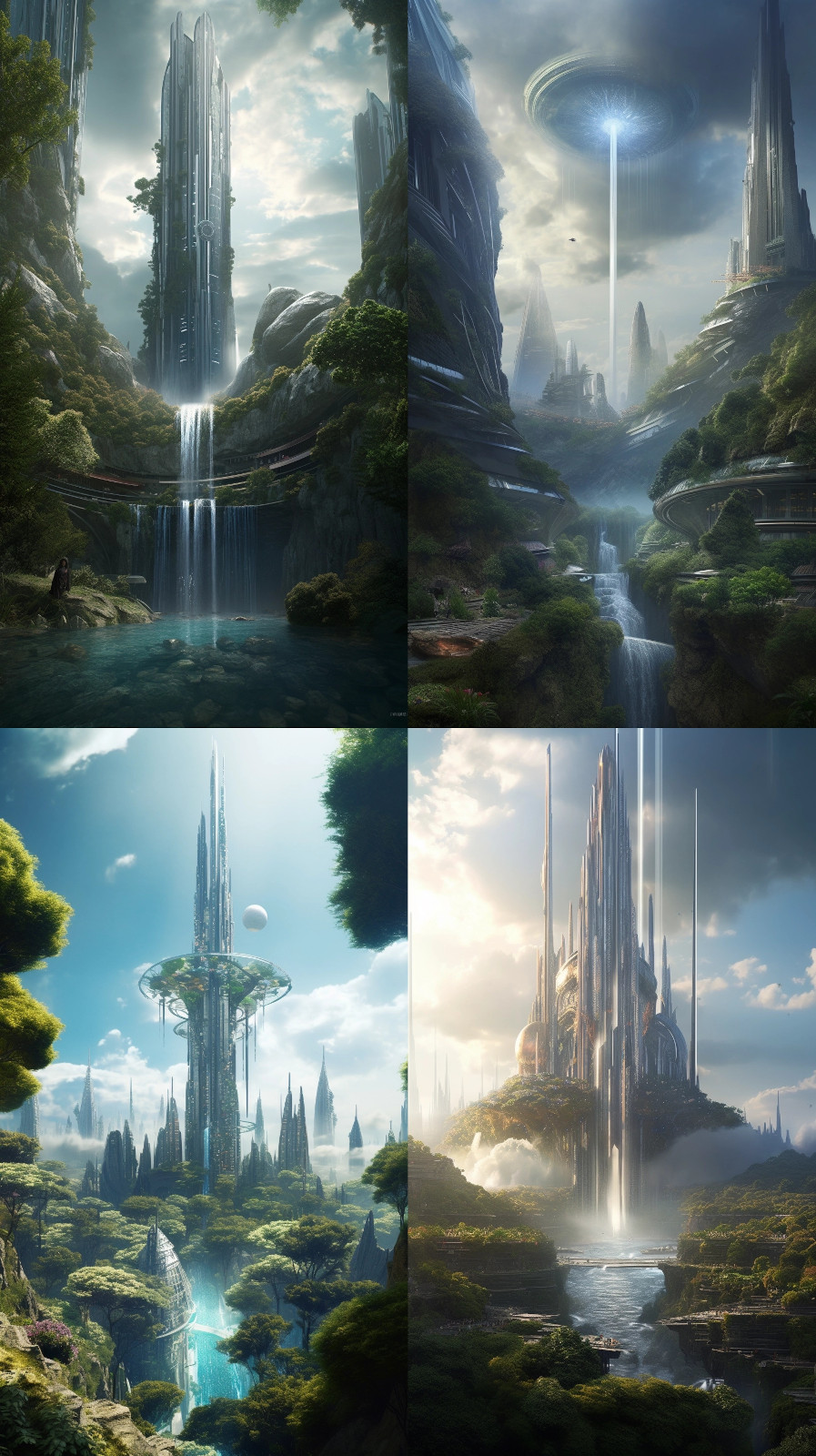 A much more parochial vision. Interesting that the Dome of the Rock seems to have a prominent presence in these images.
Prompt:
new jerusalem in the future, friendly a bright photogrophy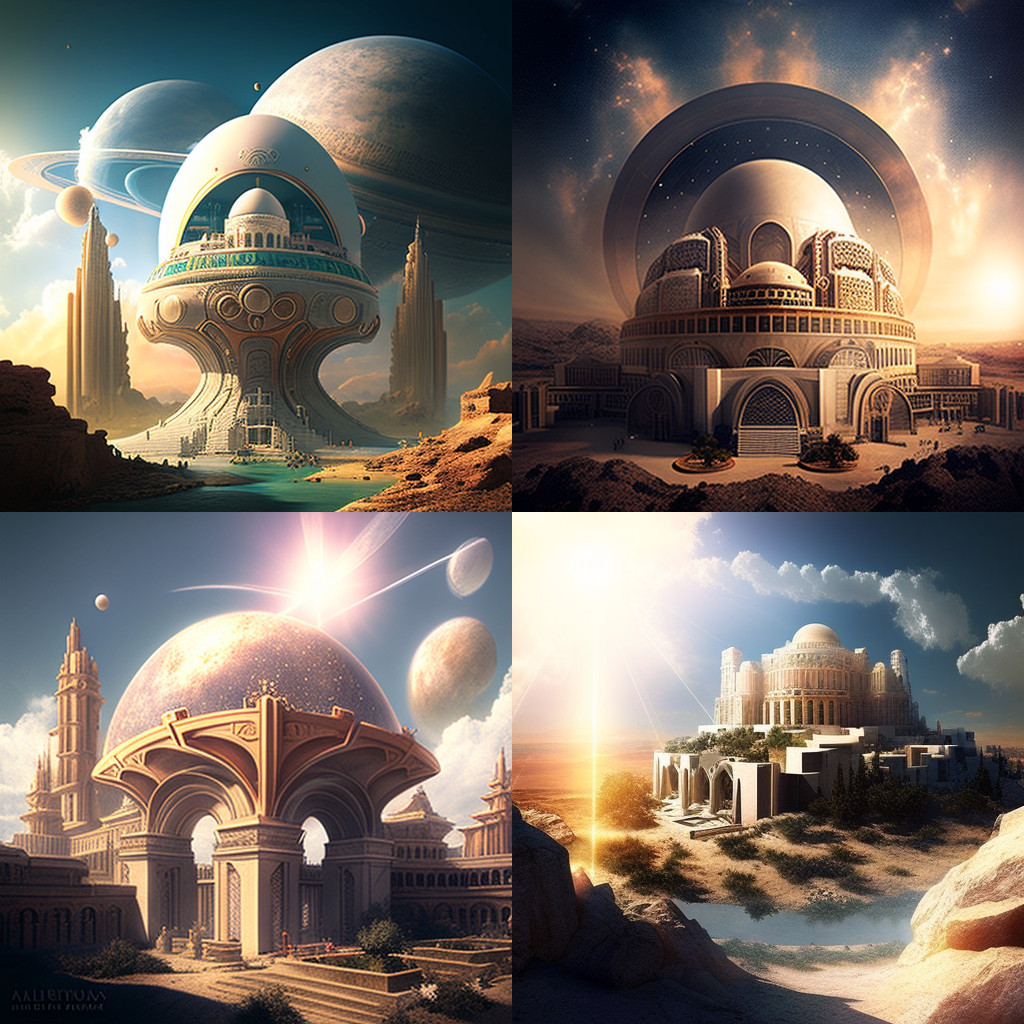 I love how the electroluminous clouds look here, but "there shall be no night there" seems to displace these, though I suppose the city might outshine the sun. There is also a prominent temple in each of these, but we are told "I saw no temple therein" so that's problematic as well.
Prompt:
new jerusalem, city on a hill electroluminous, birthday of eternity, deep contrast, insane detail, god rays, yellow, orange, gold, silver, crystal misty aura --ar 16:9 --q 2 --s 1000 --v 5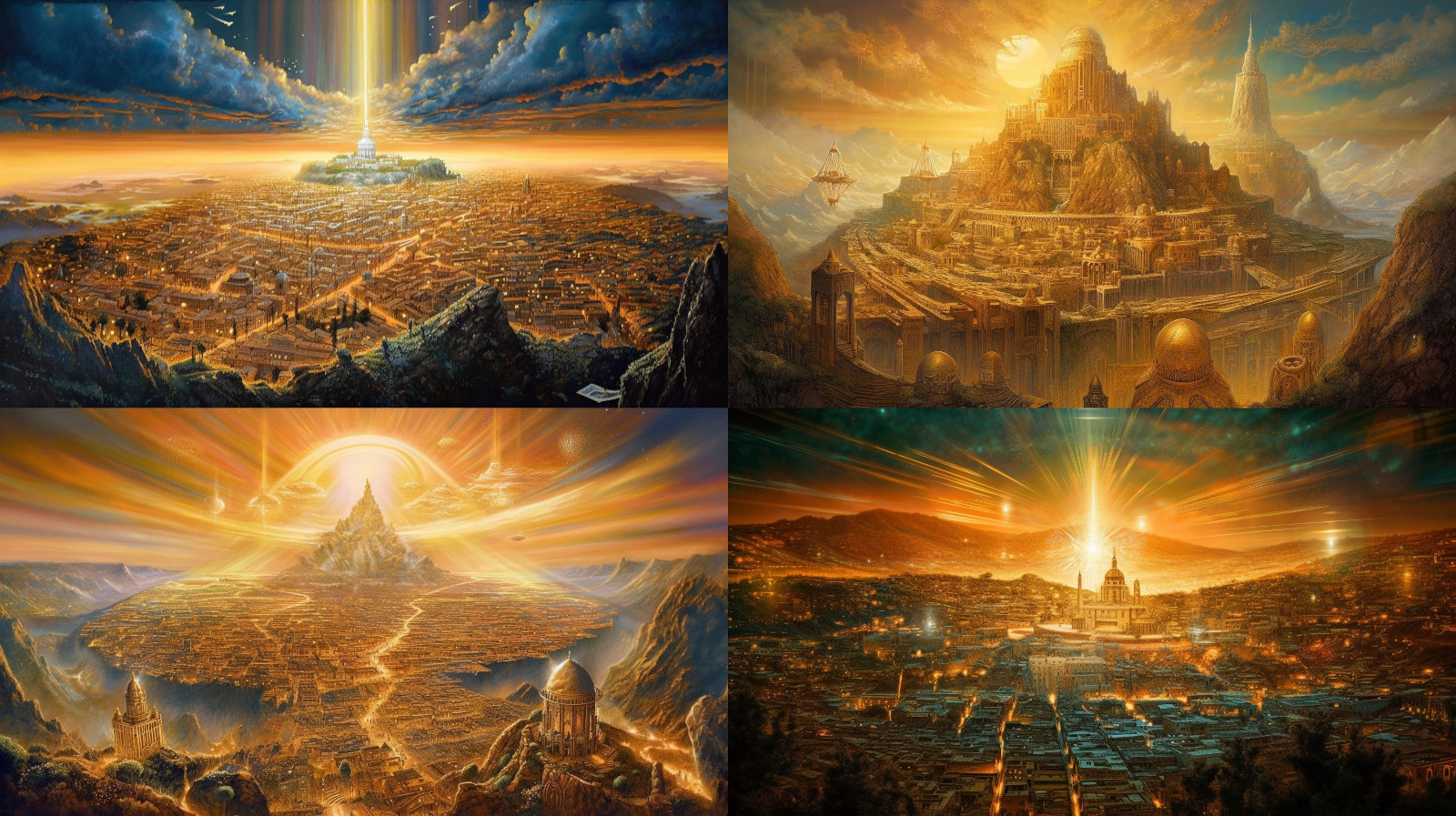 None of those were exactly what I was looking for, so I asked Midjourney to make several for me.
Right off the bat I got this. Really striking imagery. I love these designs, almost a flat mideval representation.
Prompt:
An impossibly huge gold city descending from God in heaven, in the style of bride adorned for her husband, flowing out from the city is the river of life, in the center of the city is the tree of life --v 5 --s 1000 --q 0.5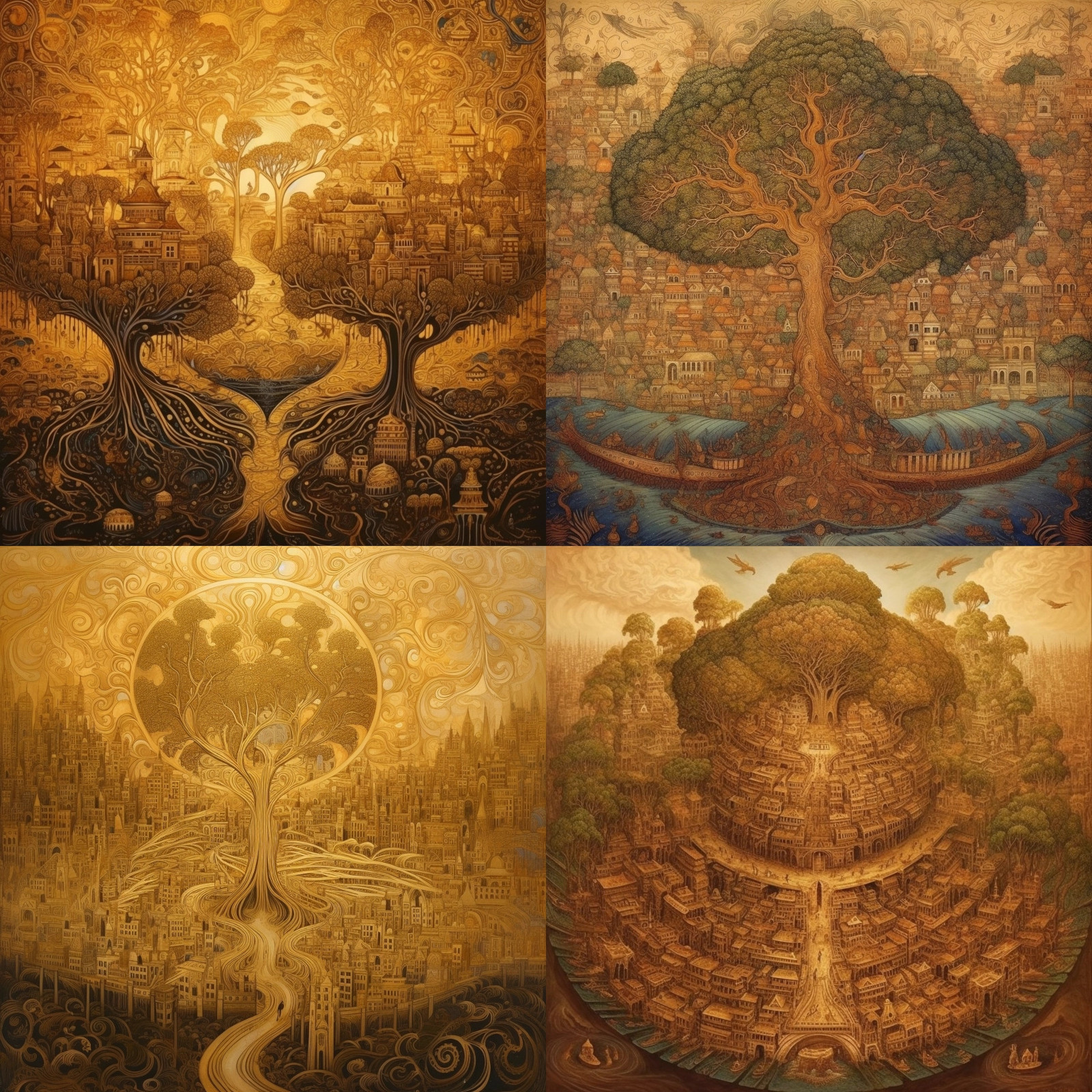 Same prompt as above. I just wanted a few more variations on this theme.
Prompt:
An impossibly huge gold city descending from God in heaven, in the style of bride adorned for her husband, flowing out from the city is the river of life, in the center of the city is the tree of life --v 5 --s 1000 --q 0.5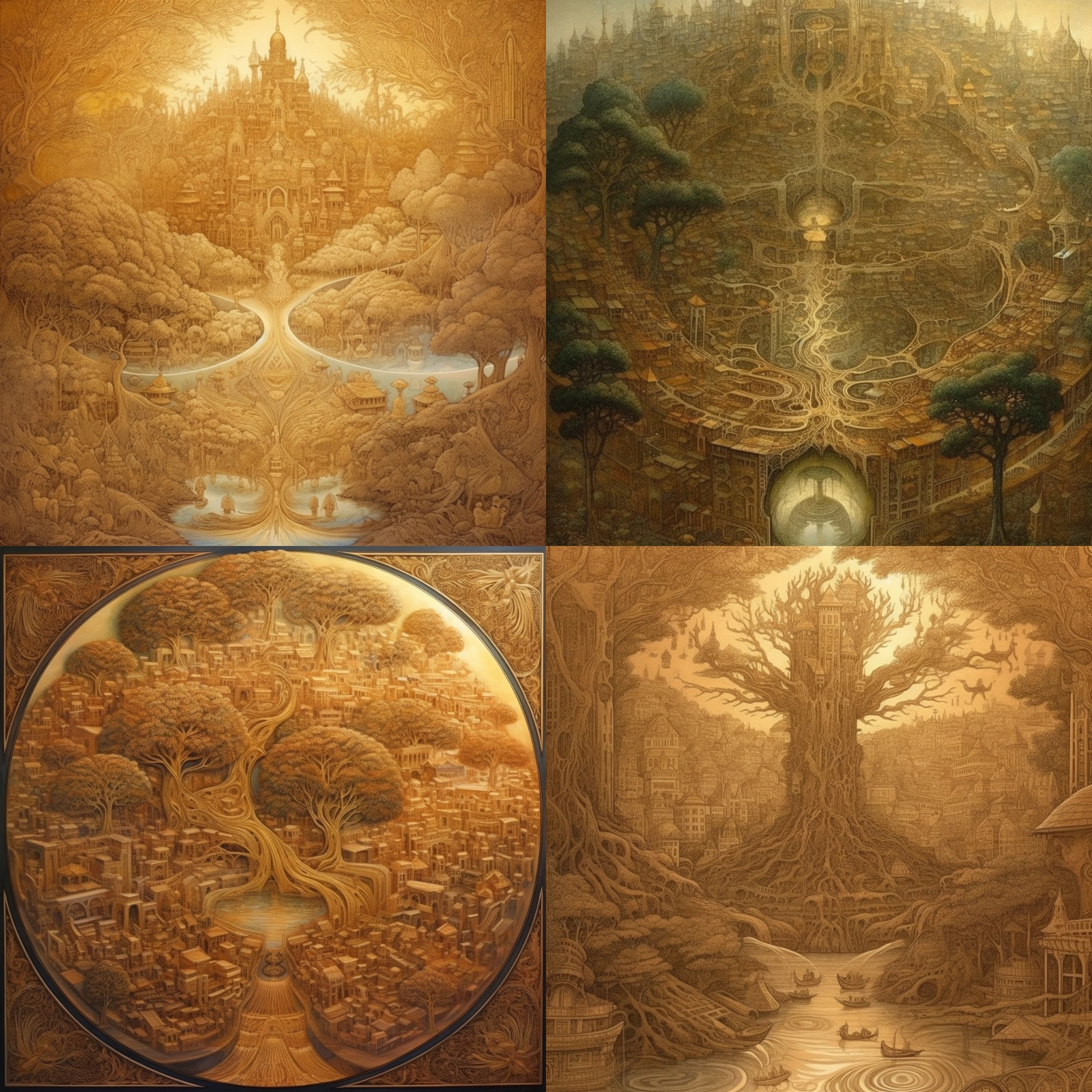 Third variation of the same prompt. Only change here is the increase in the "quality" parameter.
Prompt:
An impossibly huge gold city descending from God in heaven, in the style of bride adorned for her husband, flowing out from the city is the river of life, in the center of the city is the tree of life --v 5 --s 1000 --q 1.5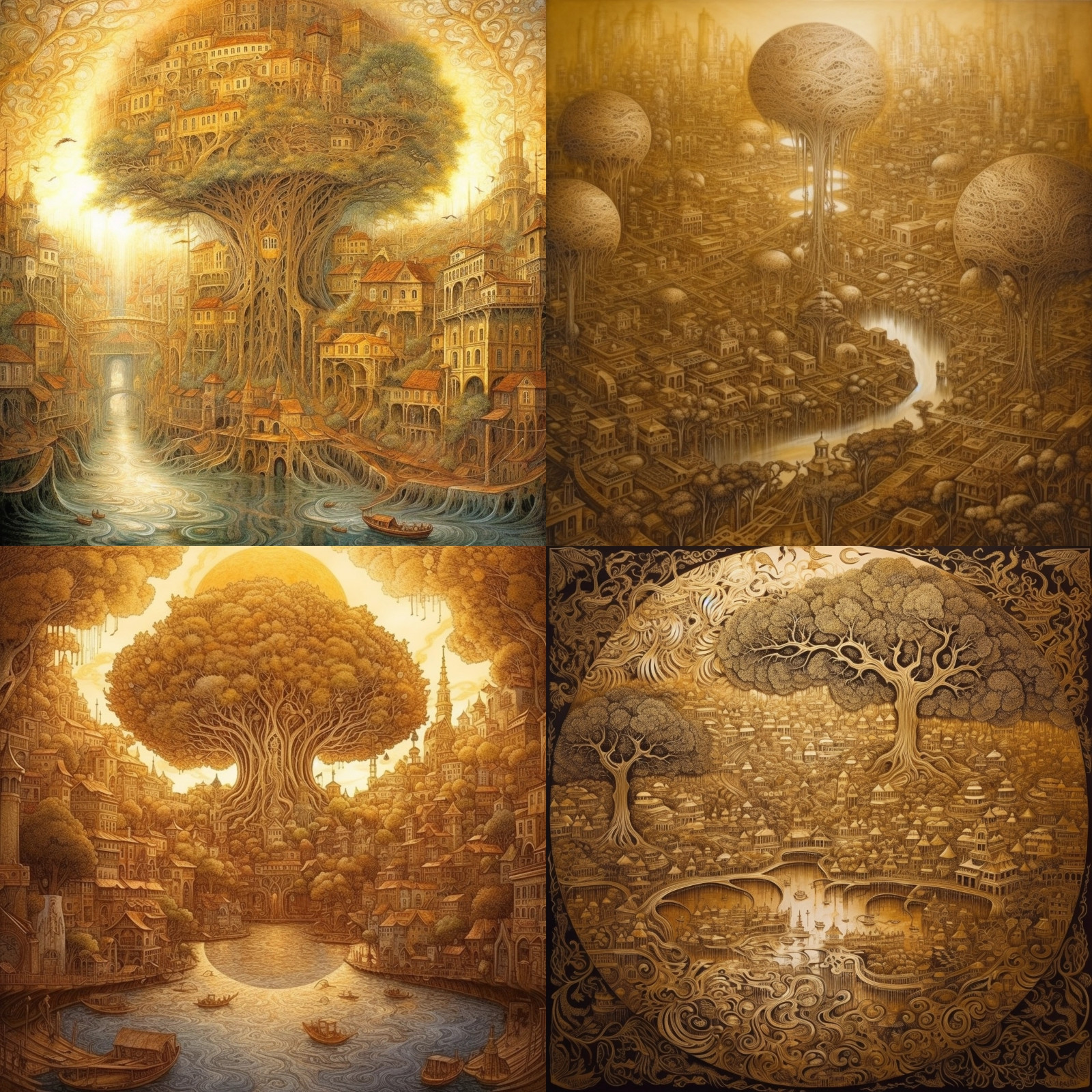 Changed the style and moved the trees. Aesthetically it's a step backward, but I think this is an improvement on the accuracy front.
Prompt:
An impossibly huge gold city descending from God in heaven, in the style of a bride on her wedding day, flowing out from the city is the river of life, twelve trees beside the river --v 5 --s 1000 --q 0.5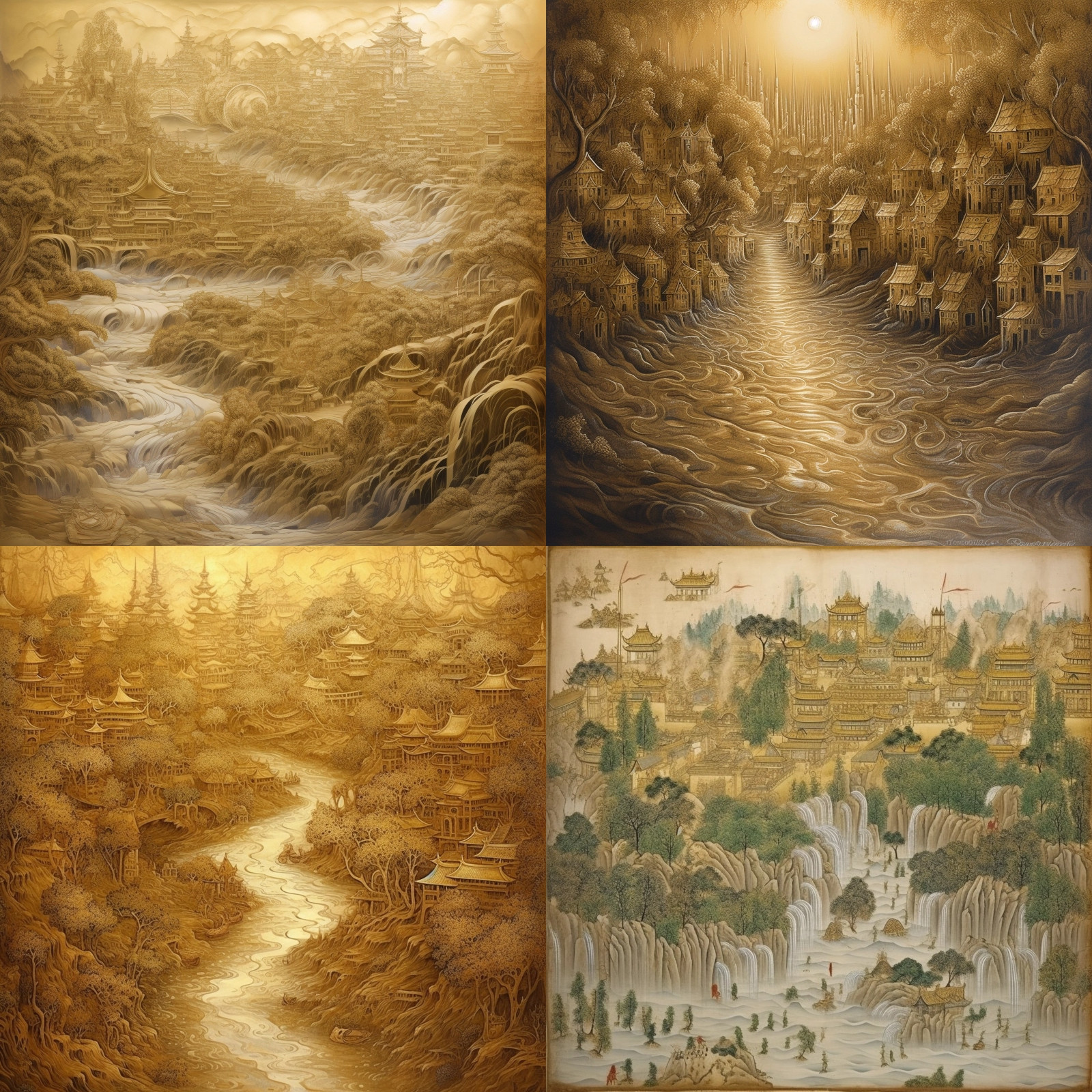 Identical prompt with quality boost.
Prompt:
An impossibly huge gold city descending from God in heaven, in the style of a bride on her wedding day, flowing out from the city is the river of life, twelve trees beside the river --v 5 --s 1000 --q 1.5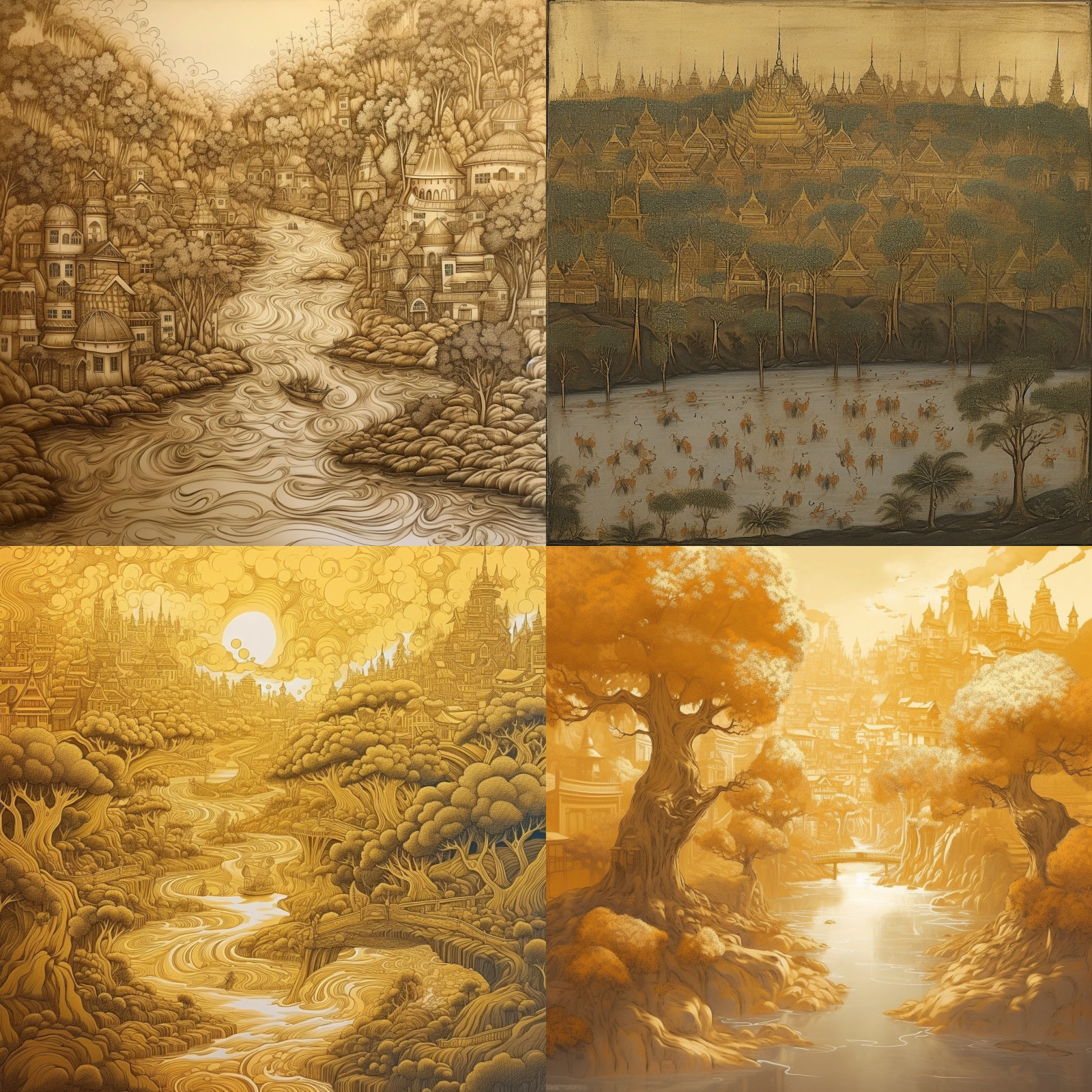 In the vein of my speculations at the top about the pyramidial structure, I significantly altered the structure of the prompt. I also added some negative weights. The combination appears to have arrived at something almost hindu in nature. Really striking.
Prompt:
An impossibly huge gold pyramid descending from God in heaven, in the style of a bride adorned for her husband::2 flowing out from the city is the river of life, twelve trees beside the river, twelve pearl gates, diamond walls::1 the sun::-0.6 a temple::-0.6 shadows::-0.4 liars and dogs::-0.7 new jerusalem, city on a hill::0.7 --v 5 --s 1000 --q 0.5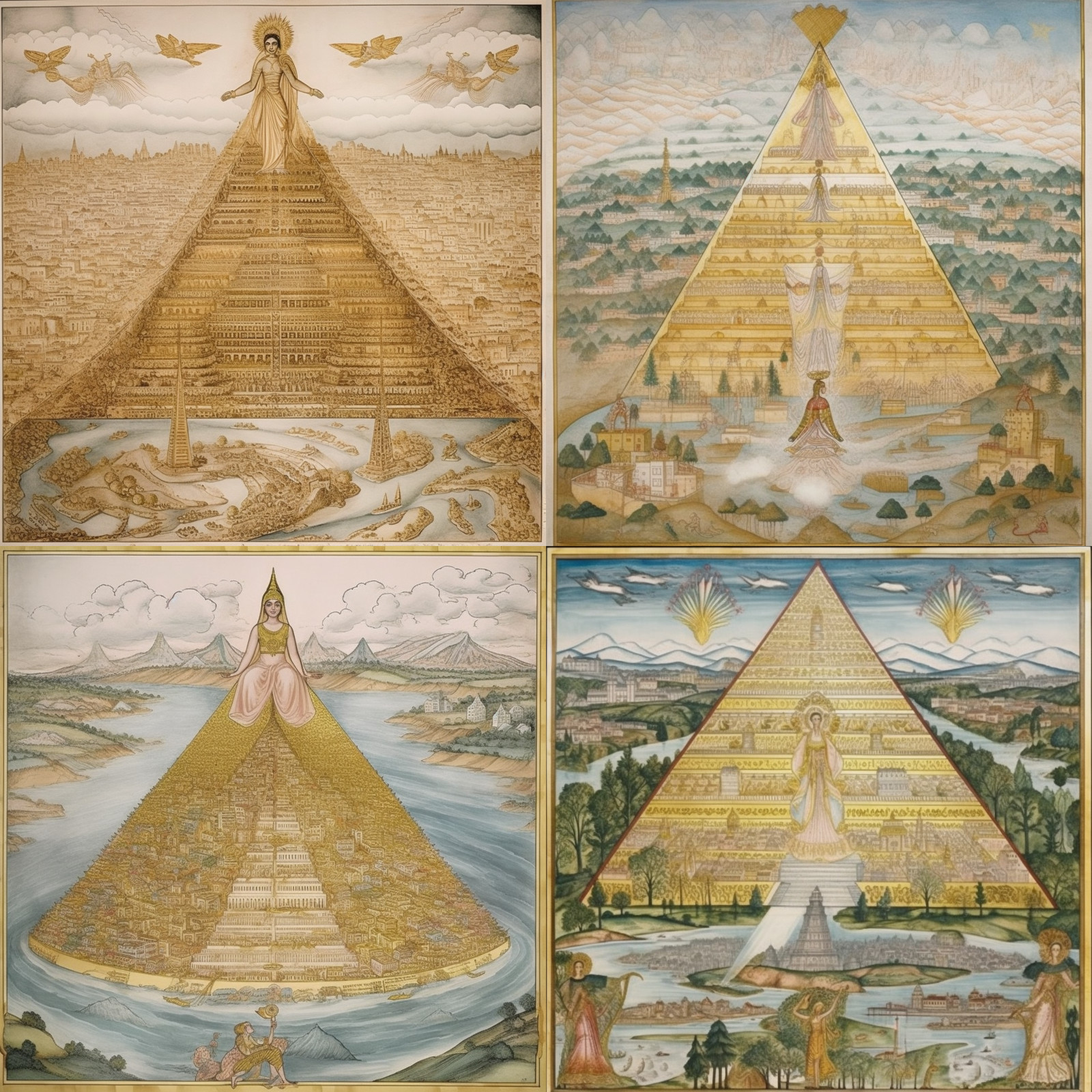 I liked this so much I used the same prompt again.
Prompt:
An impossibly huge gold pyramid descending from God in heaven, in the style of a bride adorned for her husband::2 flowing out from the city is the river of life, twelve trees beside the river, twelve pearl gates, diamond walls::1 the sun::-0.6 a temple::-0.6 shadows::-0.4 liars and dogs::-0.7 new jerusalem, city on a hill::0.7 --v 5 --s 1000 --q 0.5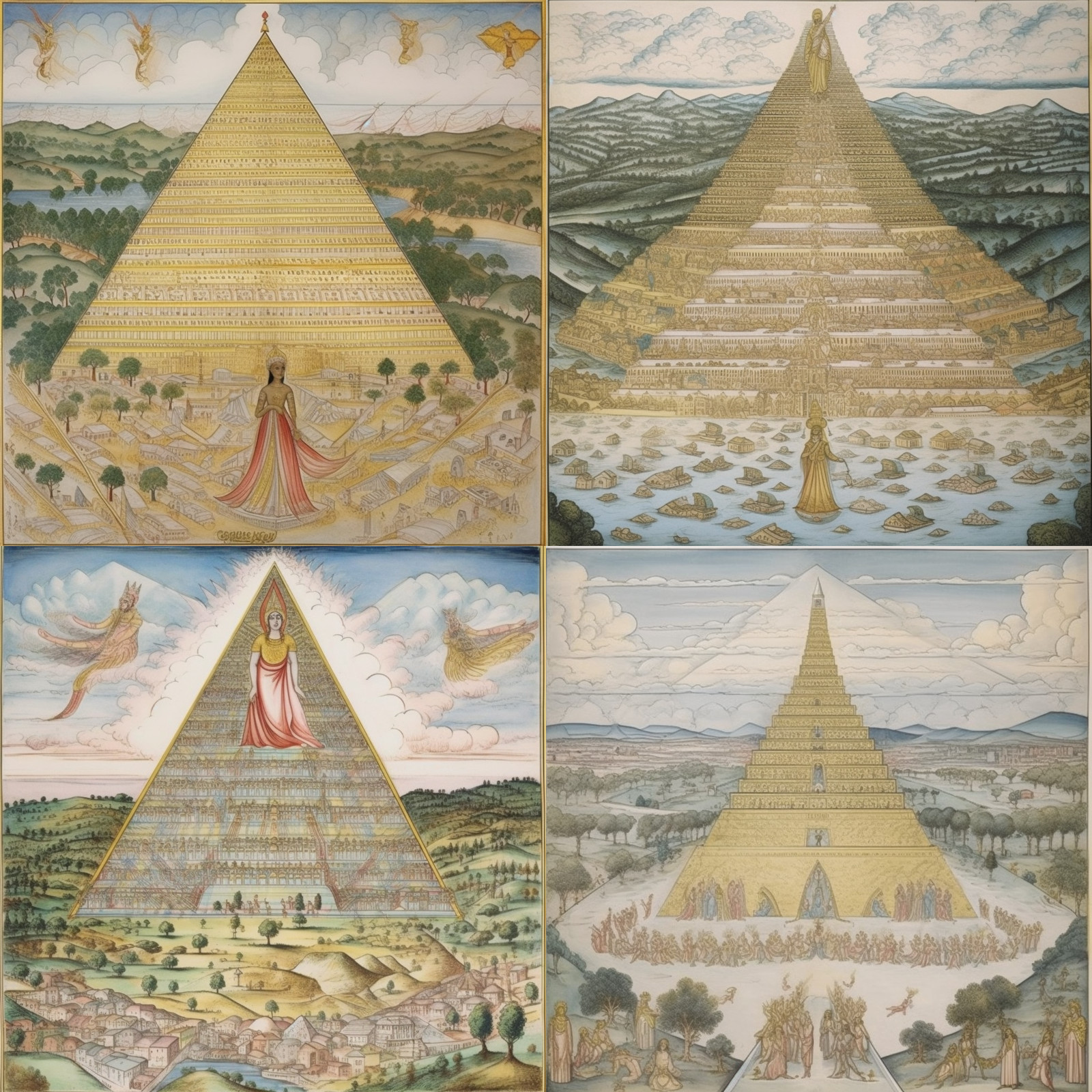 Third identical prompt, with the increased quality value. Interesting that the bottom-left version has a much more photographic style.
Prompt:
An impossibly huge gold pyramid descending from God in heaven, in the style of a bride adorned for her husband::2 flowing out from the city is the river of life, twelve trees beside the river, twelve pearl gates, diamond walls::1 the sun::-0.6 a temple::-0.6 shadows::-0.4 liars and dogs::-0.7 new jerusalem, city on a hill::0.7 --v 5 --s 1000 --q 1.5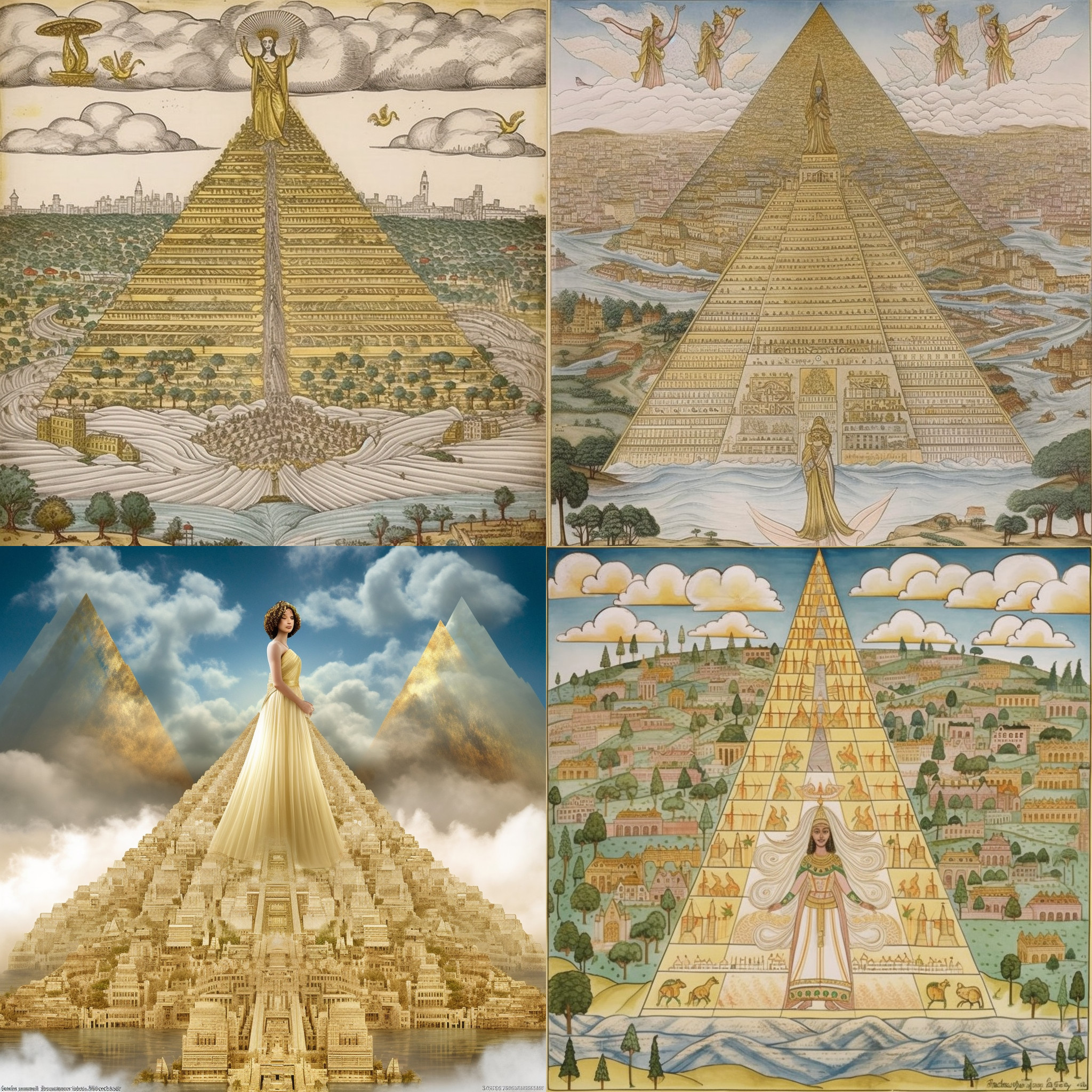 I took out heaven and God and added clear crystal. I don't know why I thought this would improve the image, but the results prove the error.
Prompt:
An impossibly huge gold pyramid city, in the style of a bride adorned for her husband::1.6 flowing out from the city is the river of life, on the banks of the river are the twelve trees of life::1 clear crystal diamond walls::0.8 new jerusalem::0.7 sun::-0.4 temple::-0.3 shadows::-0.2 --v 5 --s 1000 --q 0.5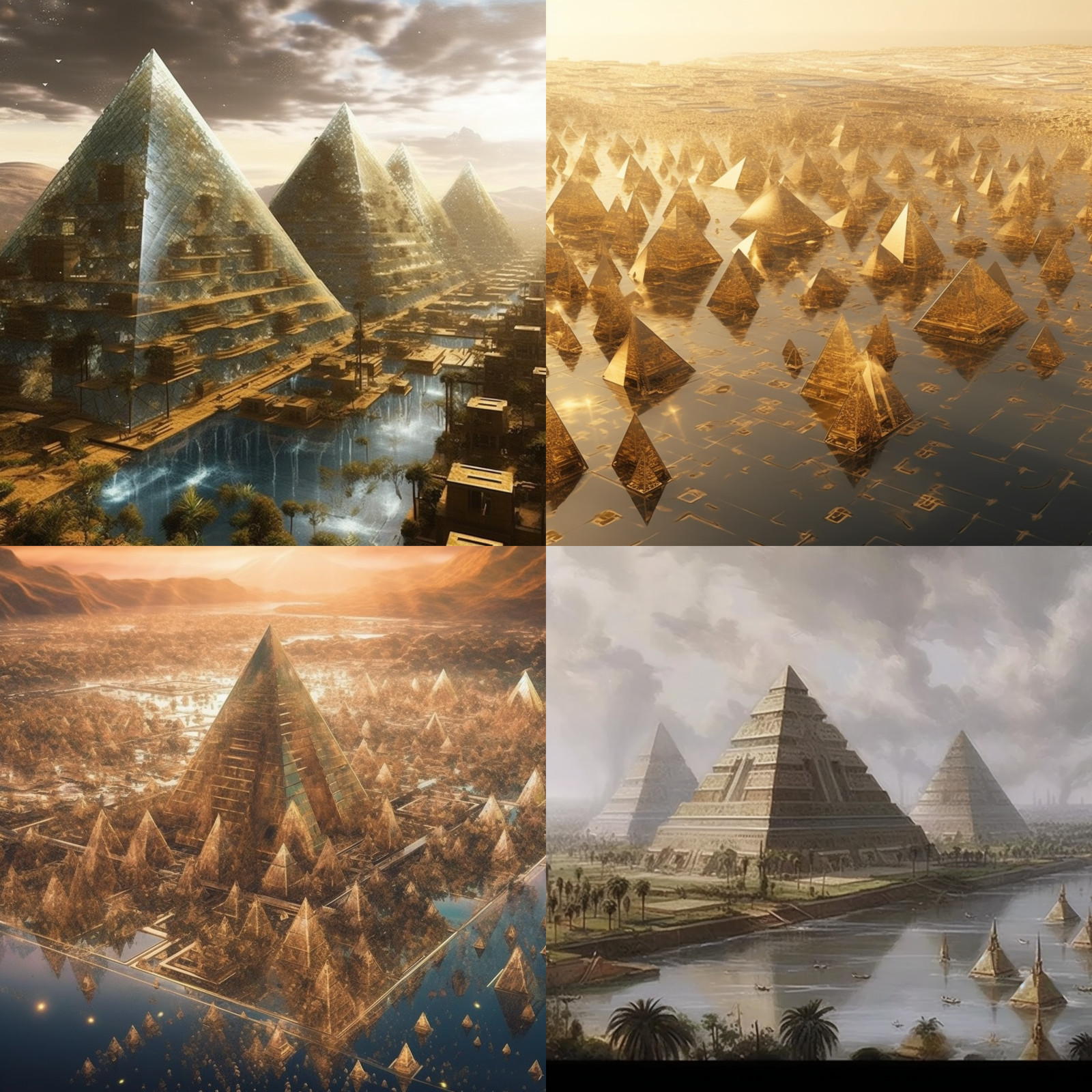 Here I added an extensive exclusion for the litany of evil. Midjourney seems to have interpereted this as an exclusion of all humanity. Not sure what this says about what the AI thinks of humans, but it's probably not good.
Prompt:
An impossibly huge gold pyramid descending from God in heaven, in the style of a bride adorned for her husband::1.618 flowing out from the pyramid is the river of life, on the banks of the river are the twelve trees of life::1 clear crystal diamond walls::0.8 new jerusalem::0.618 shadows::-0.2 temple::-0.3 sun::-0.4 night::-0.5 fearful, unbelieving, abominable, liars, sorcerers, whoremongers, dogs, idolaters::-0.618 --v 5 --s 1000 --q 0.5 --c 5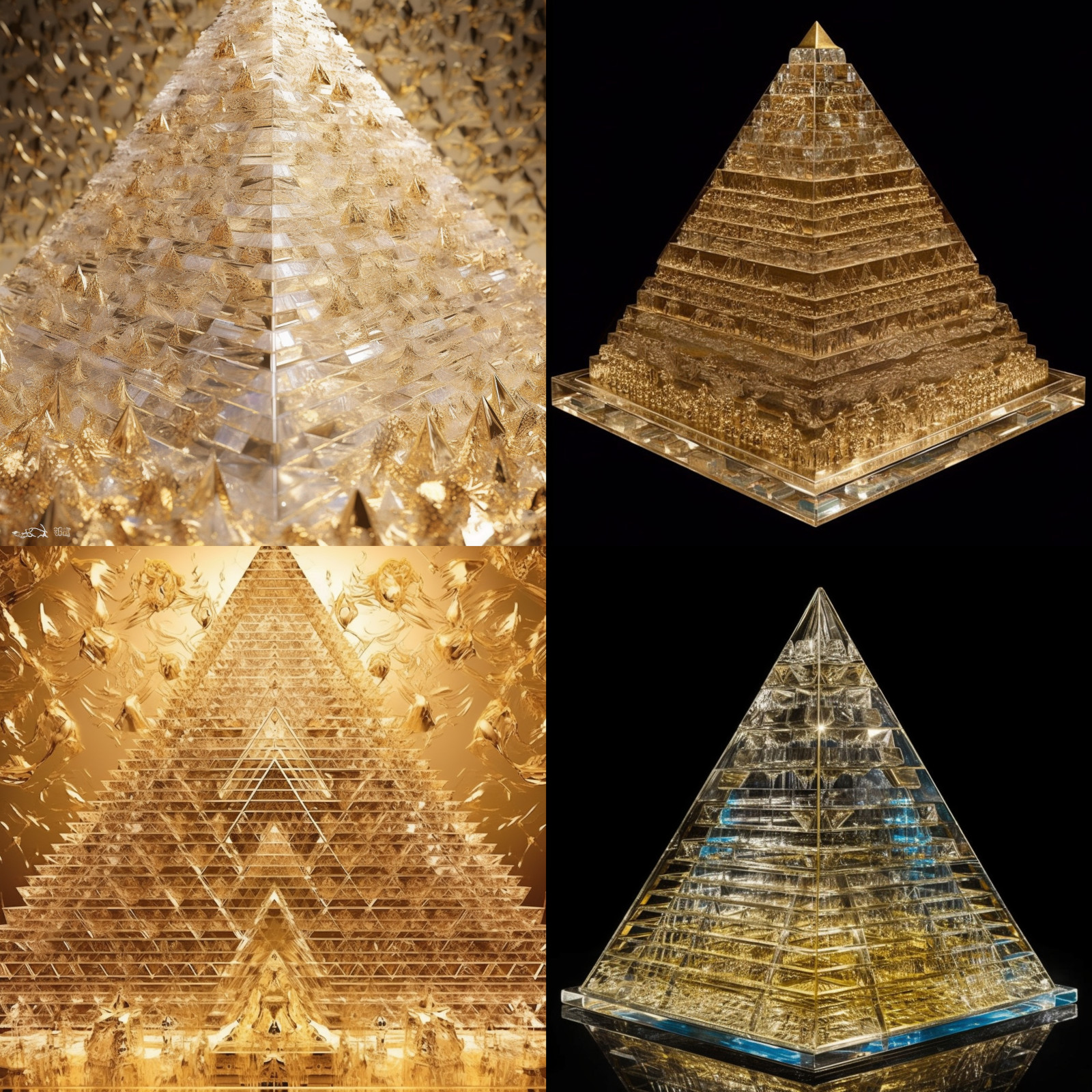 I added some gates and tried to get the river and city back, but the AI was having none of it. It seems to be a fascinating luxury hotel lobby sculpture at this point.
Prompt:
An impossibly huge gold pyramid descending from God in heaven, in the style of a bride adorned for her husband::1.618 flowing out from the city is the river of life, on the banks of the river are the twelve trees of life, twelve pearl gates::1 clear crystal diamond walls::0.8 new jerusalem::0.618 shadows::-0.2 temple::-0.3 sun::-0.4 night::-0.5 fearful, unbelieving, abominable, liars, sorcerers, whoremongers, dogs, idolaters::-0.618 --v 5 --s 1000 --q 0.5 --c 3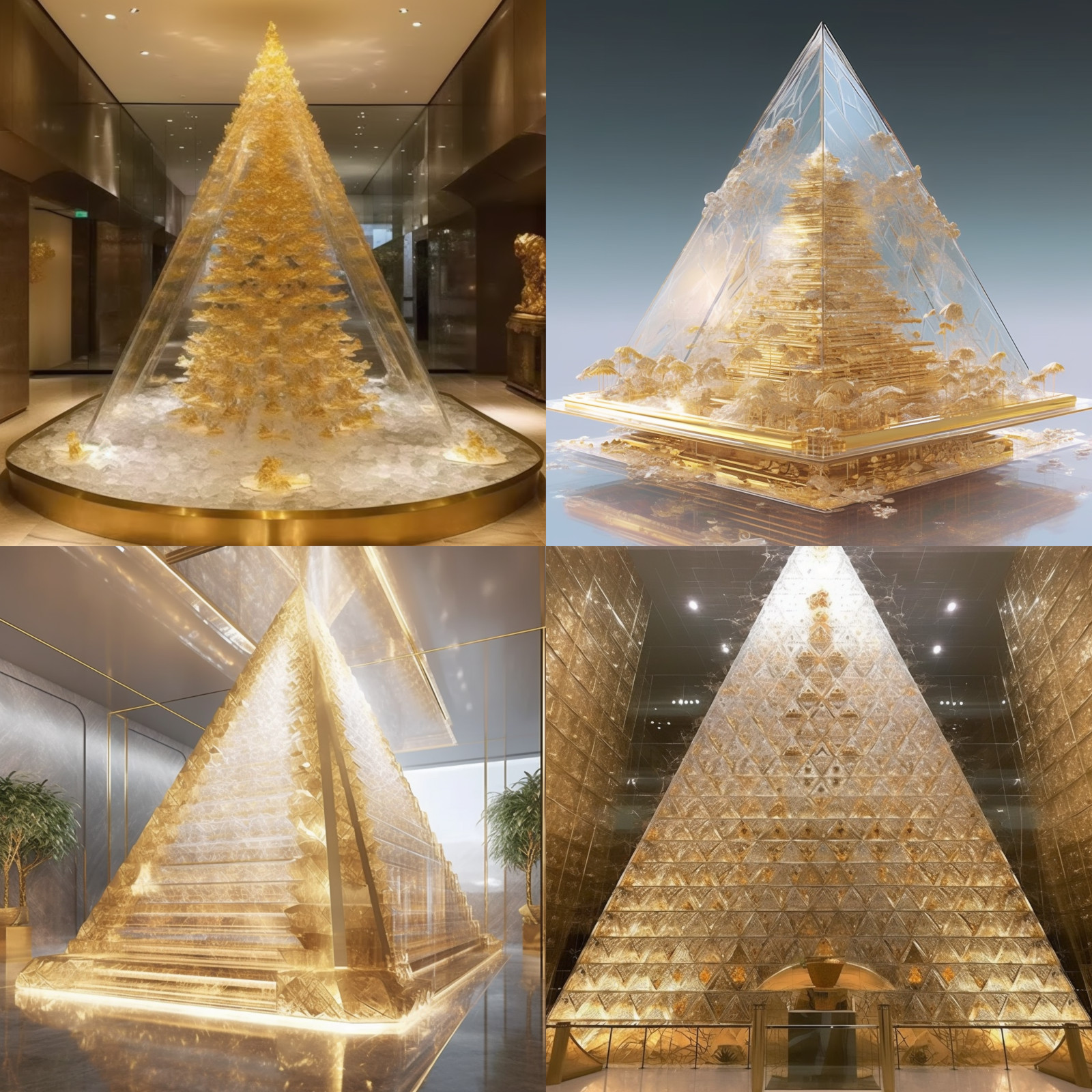 I went back to an earlier prompt, but changed the style to kowloon walled city. Not bad, but now we've lost the idealized aspect.
Prompt:
An impossibly huge gold city descending from God in heaven, in the style of kowloon walled city, flowing out from the city is the river of life, in the center of the city is the tree of life --v 5 --s 1000 --q 0.5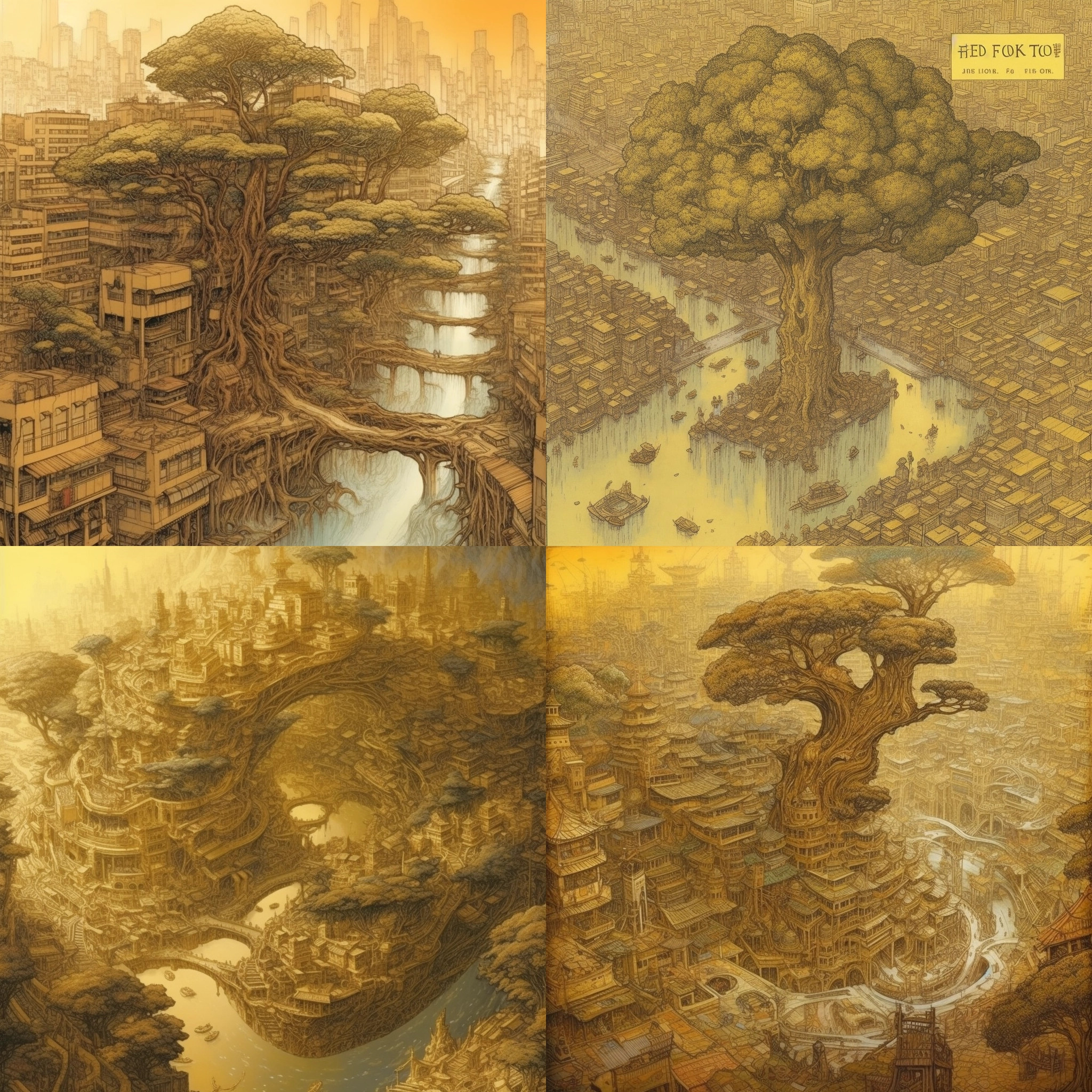 I tried a pyramid instead, with a few exclusions. Not quite what I wanted either.
Prompt:
An impossibly huge gold pyramid descending from God in heaven, in the style of kowloon walled city::2 flowing out from the city is the river of life, twelve trees beside the river, twelve pearl gates, diamond walls::1 the sun::-0.6 a temple::-0.6 shadows::-0.4 liars and dogs::-0.7 new jerusalem, city on a hill::0.7 --v 5 --s 1000 --q 0.5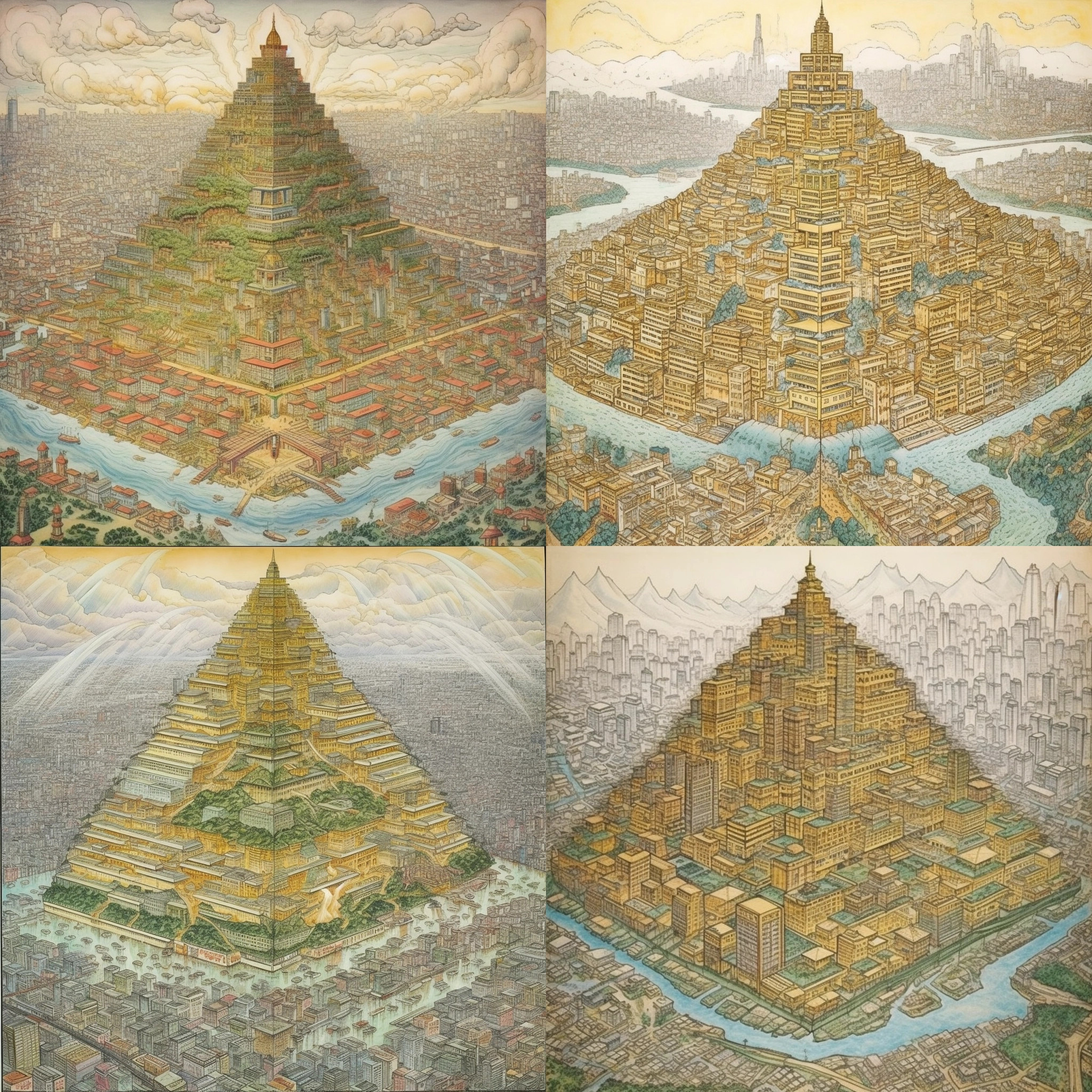 Okay, I took out most of the exclusions and now we're getting somewhere. I love the Chinese touches.
Prompt:
An impossibly huge gold kowloon walled city descending from God in heaven, in the style of a bride adorned for her husband::2 flowing out from the city is the river of life, twelve trees beside the river, twelve pearl gates, diamond walls::1 the sun::-0.3 new jerusalem::0.3 a temple::-0.3 --v 5 --s 500 --q 0.5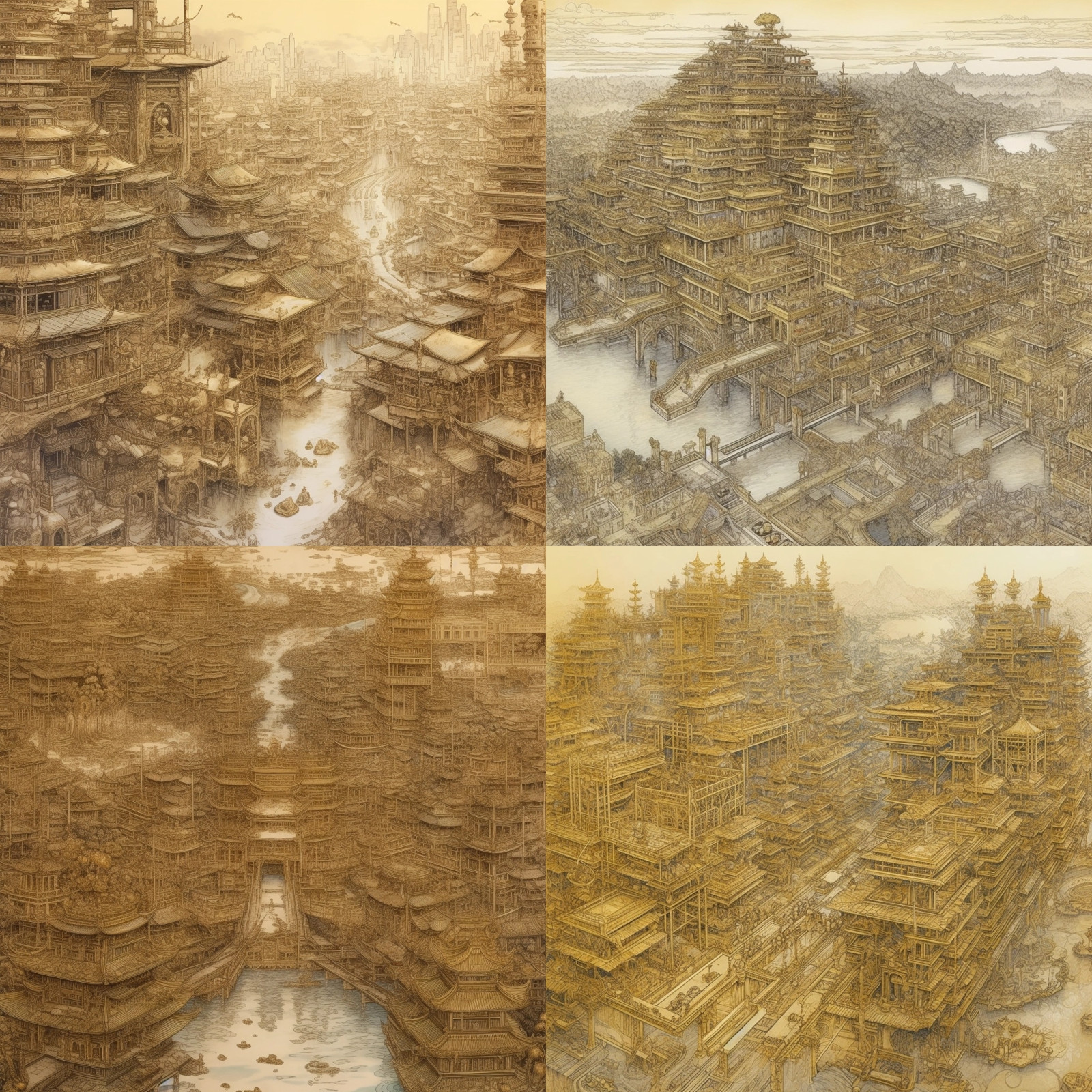 took out the diamond walls and made the gold transparent. Also removed all the exclusions. An improvement!
Prompt:
An impossibly huge kowloon walled city descending from God in heaven, in the style of a bride adorned for her husband, made of transparent gold::2 flowing out from the city is the river of life, twelve trees beside the river, twelve pearl gates::1 new jerusalem::0.3 --v 5 --s 500 --q 0.5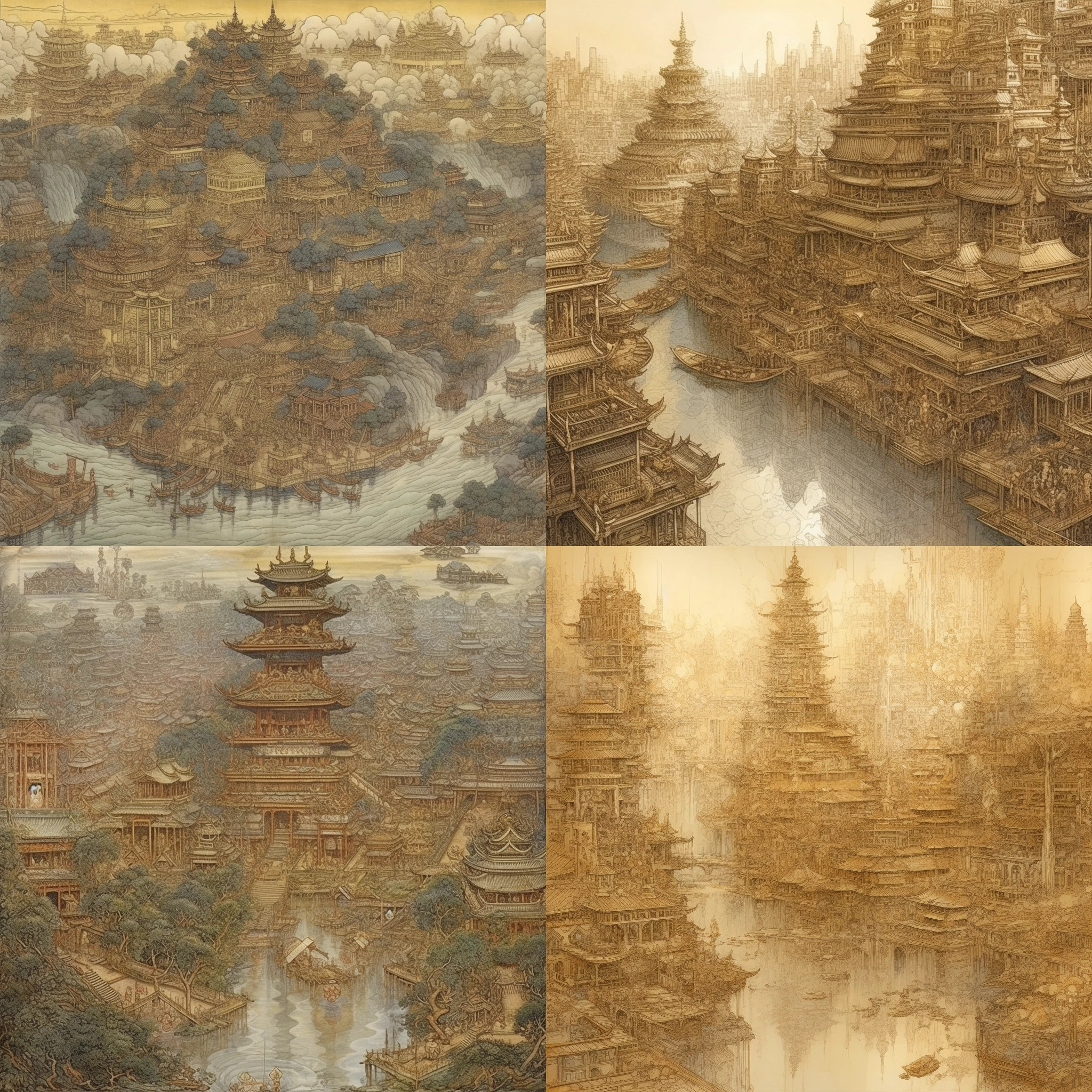 Tried excluding slums and sorrow, since those are aspects of kowloon walled city that I'm not trying to invoke.
Prompt:
An impossibly huge kowloon walled city, in the style of a bride adorned for her husband, made of gold and diamond crystal::2 flowing out from the city is the river of life, twelve trees of life on either side of the river::1 new jerusalem::0.3 slums, sorrow::-0.3 --v 5 --s 500 --q 0.5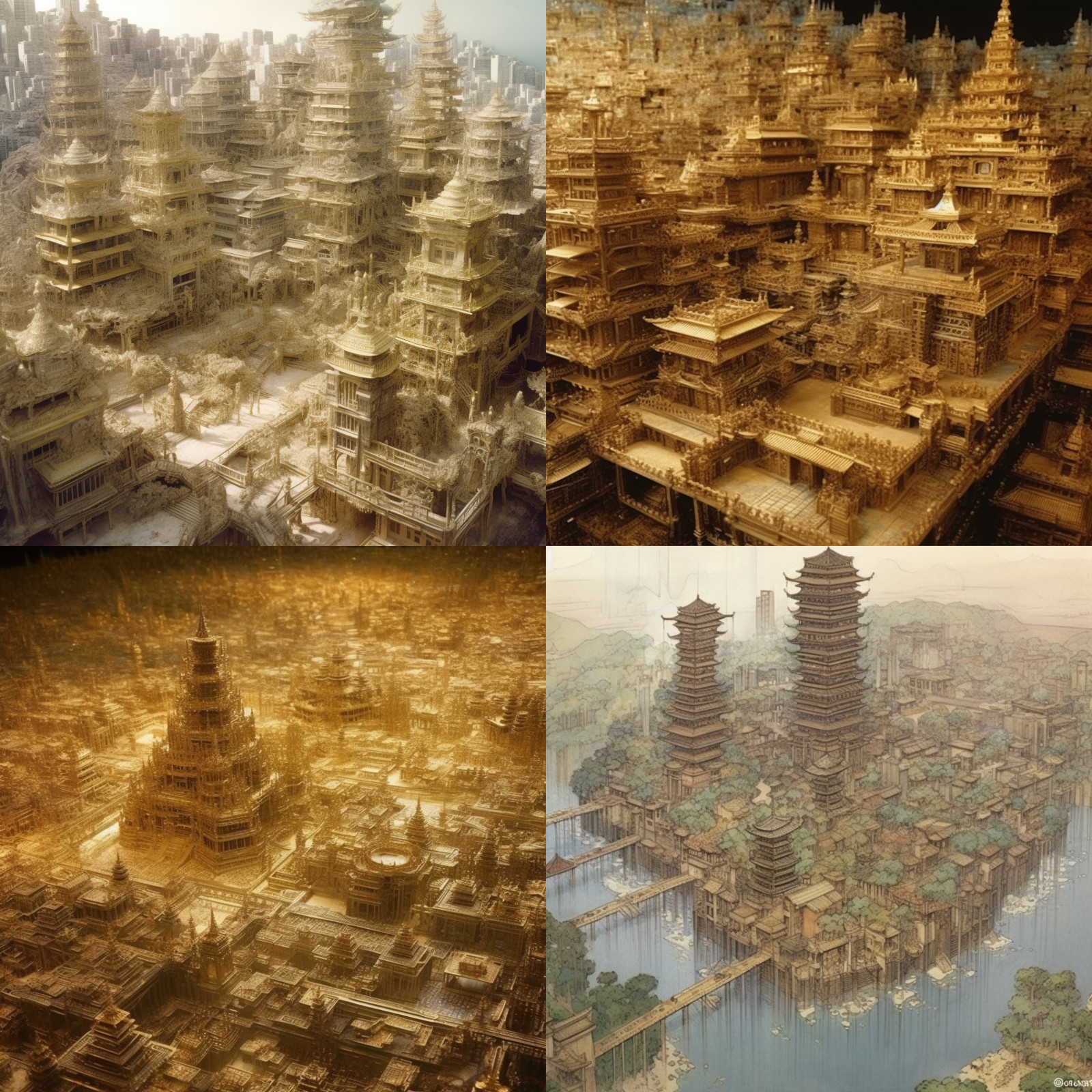 Excluded death and pain, and added luminous. That seems to have clicked! The top-left image especially.
Prompt:
An impossibly huge kowloon walled city, in the style of a bride adorned for her husband, made of transparent gold glass, luminous::1.618 flowing out from the city is the river of life, twelve trees of life on either side of the river::1 new jerusalem::0.3 death, slums, sorrow, pain::-0.3 --v 5 --s 500 --q 0.5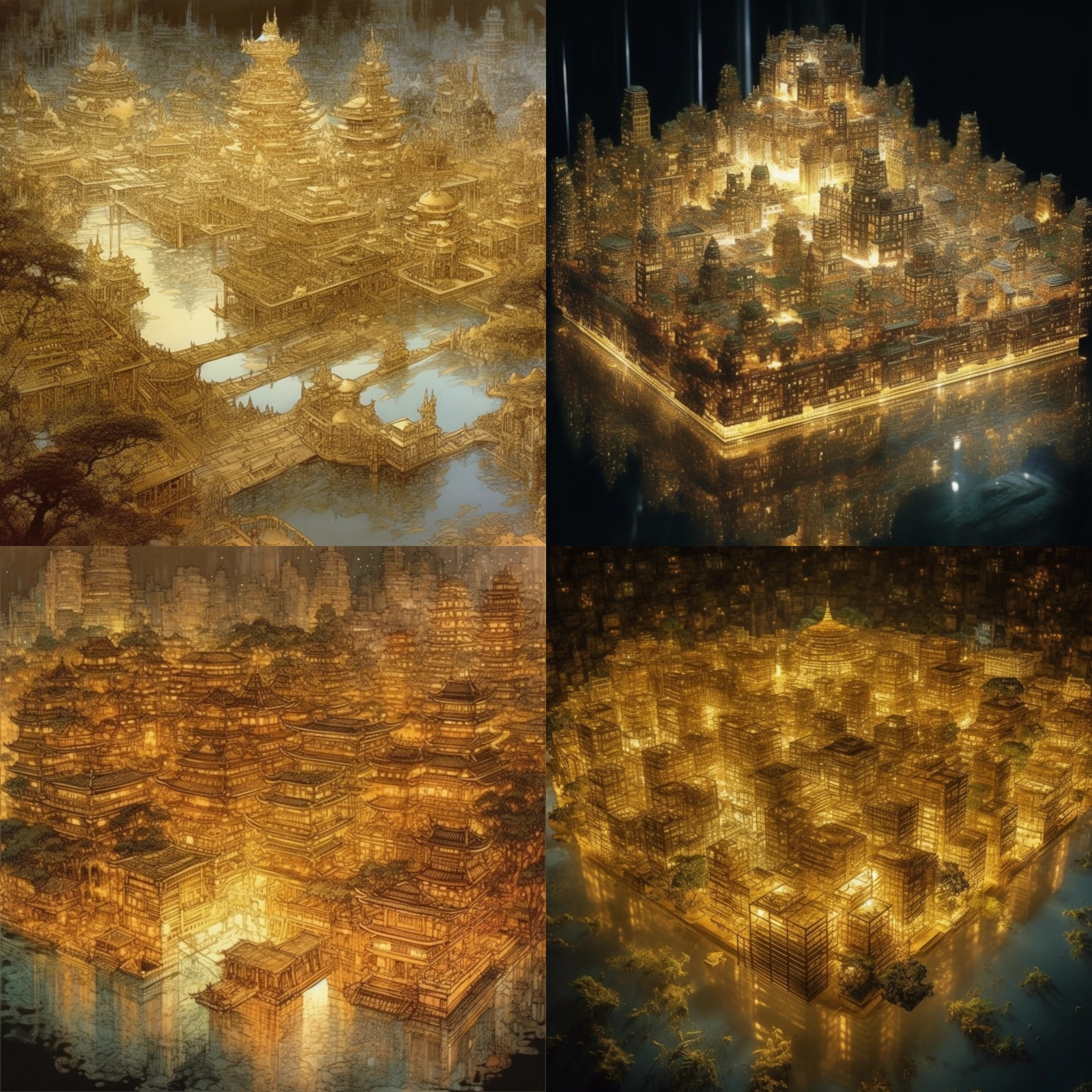 I don't like how the camera seems to be looking down on the city, so I tried adding "extreme low angle view", but that didn't seem to work. I also excluded night, which helped.
Prompt:
An impossibly huge kowloon walled city, in the style of a bride adorned for her husband, made of transparent gold glass, luminous, extreme low angle view::1.618 flowing out from the city is the river of life, twelve trees of life on either side of the river::1 new jerusalem::0.3 death, slums, sorrow, pain, night::-0.7 --v 5 --s 500 --q 0.5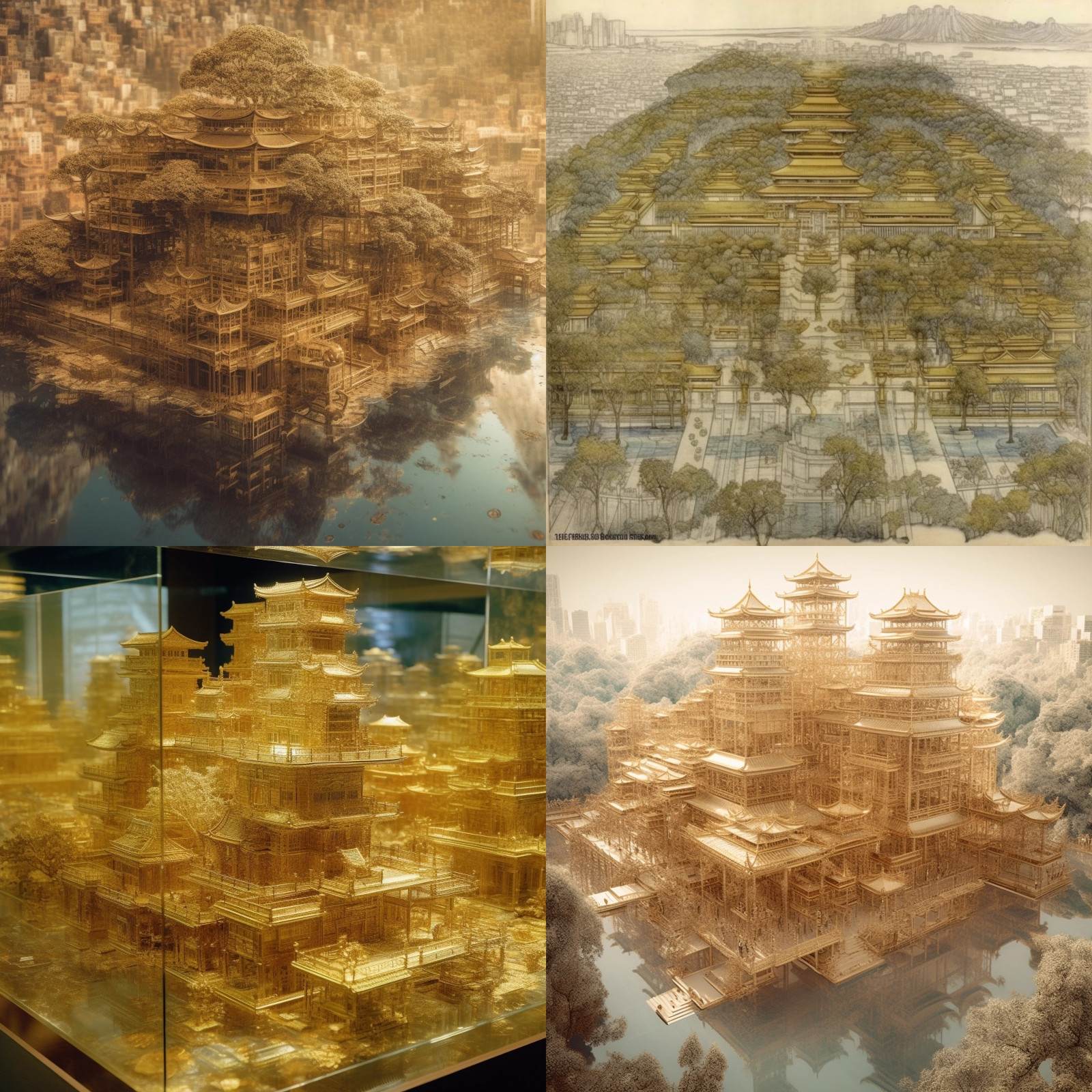 These are great, especially as a human level view inside the city. An overview is almost too much scope, so prefacing the whole thing with "inside" seems to be working great.
Prompt:
Inside an impossibly huge kowloon walled city, in the style of a bride adorned for her husband, made of transparent gold glass, luminous::1.618 flowing out from the throne of God is the river of life, twelve trees of life on either side of the river::1 new jerusalem::0.3 death, slums, sorrow, pain::-0.3 --v 5 --s 500 --q 0.5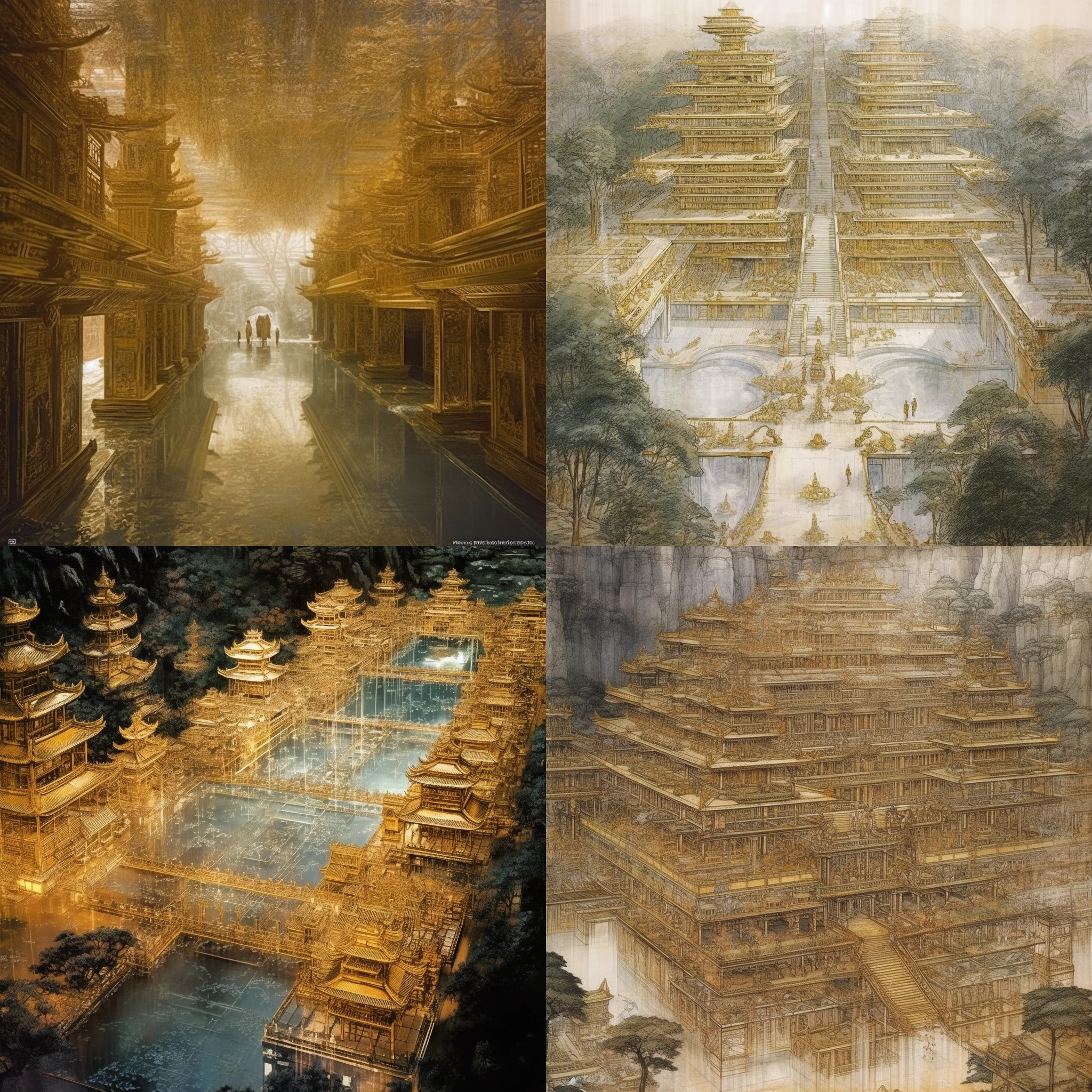 A couple divine attributes have got us there! This is really great.
Prompt:
Inside an impossibly huge kowloon walled city, in the style of a bride adorned for her husband, made of transparent gold glass, luminous::1.618 divine design, divine construction::1 new jerusalem::0.618 death, slums, sorrow, pain::-0.3 --v 5 --s 500 --q 0.5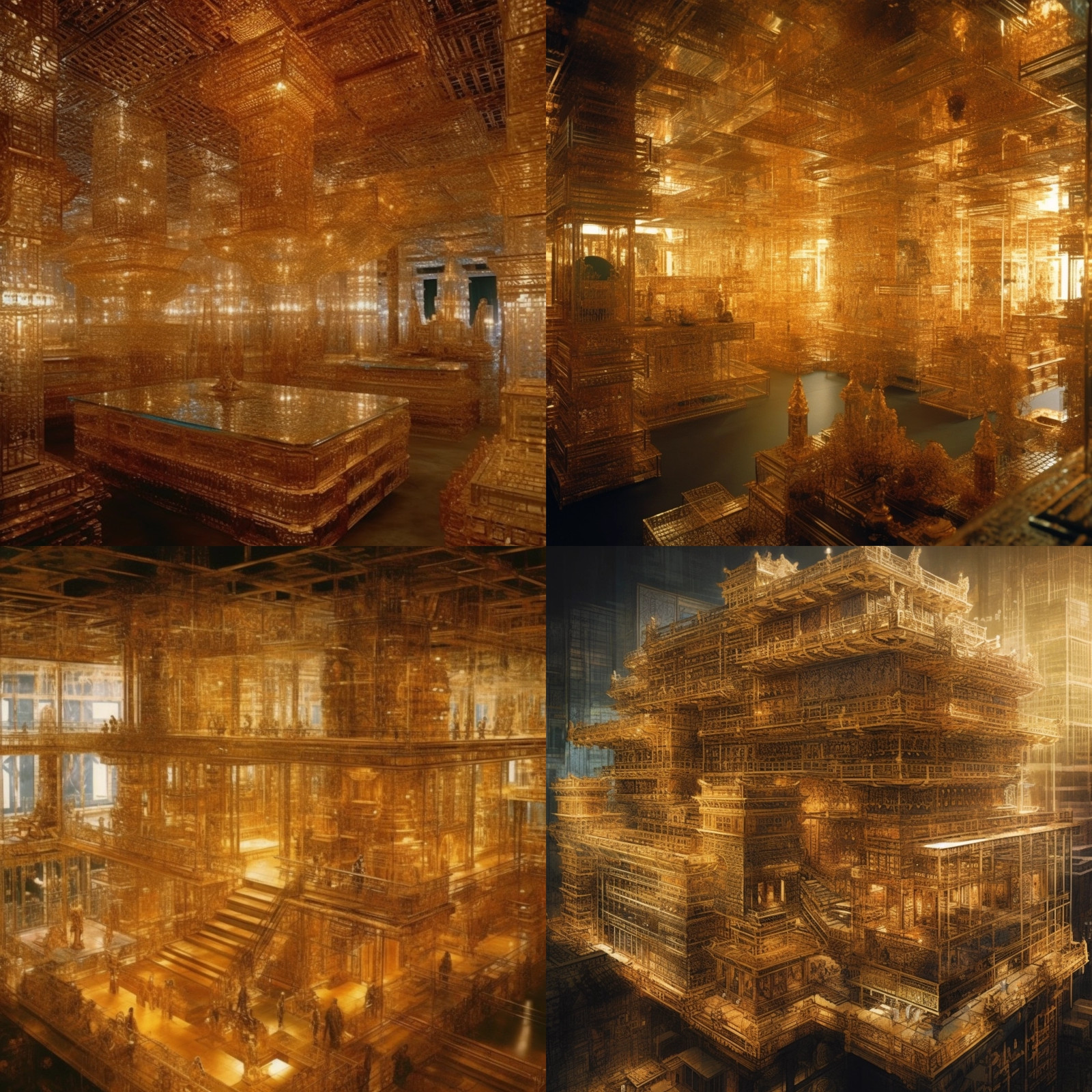 The prompt from above, with the quality increased. Lovely.
Prompt:
Inside an impossibly huge kowloon walled city, in the style of a bride adorned for her husband, made of transparent gold glass, luminous::1.618 divine design, divine construction::1 new jerusalem::0.618 death, slums, sorrow, pain, night::-0.3 --v 5 --s 500 --q 1.5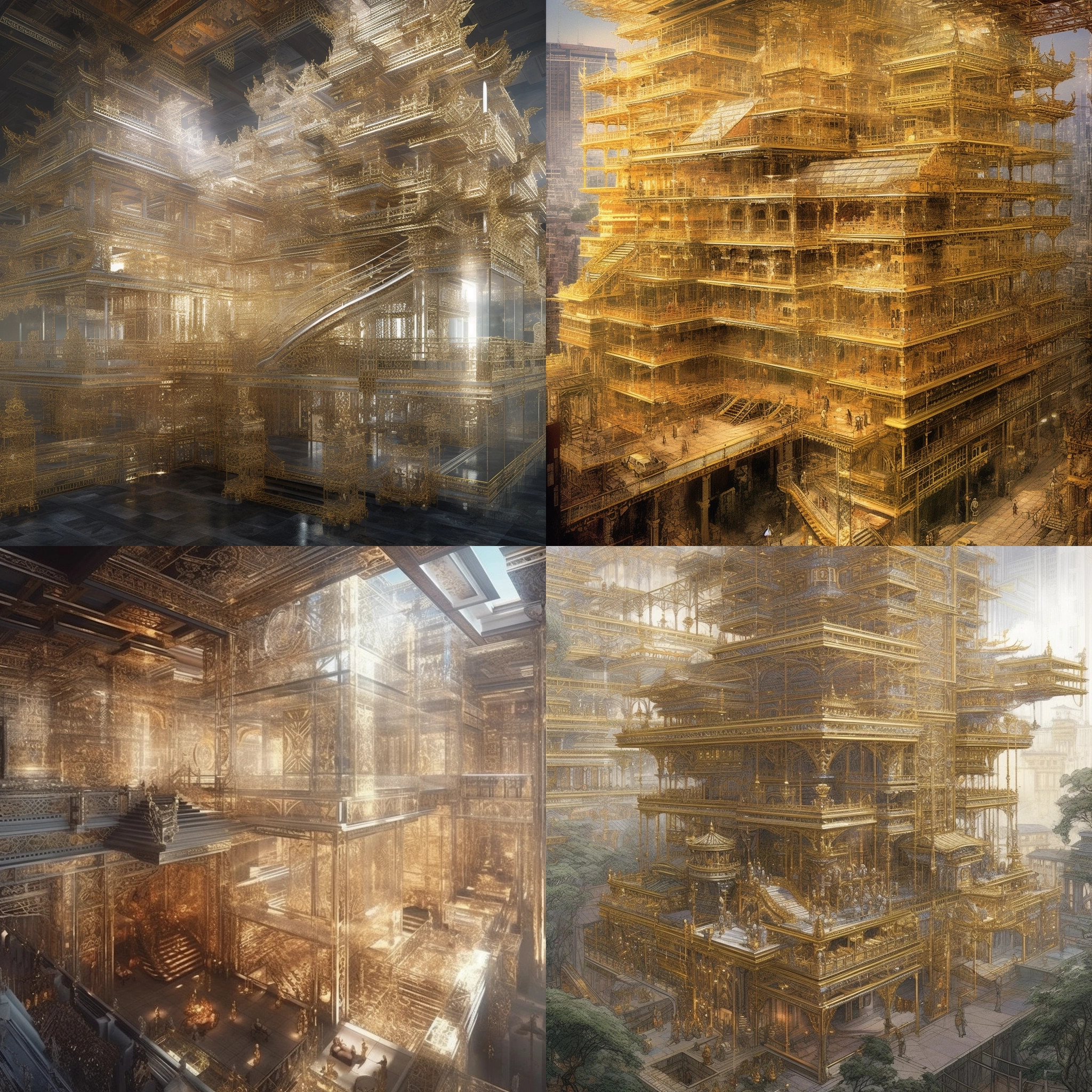 I tried amplifying the fractal aspects, and changing the perspective to "looking up at".
Prompt:
Looking up at an impossibly huge kowloon walled city, in the style of a bride adorned for her husband, made of transparent gold glass, luminous::1.618 divine design, divine construction, fractal complexity::1 new jerusalem::0.618 death, slums, sorrow, pain::-0.3 --v 5 --s 500 --q 0.5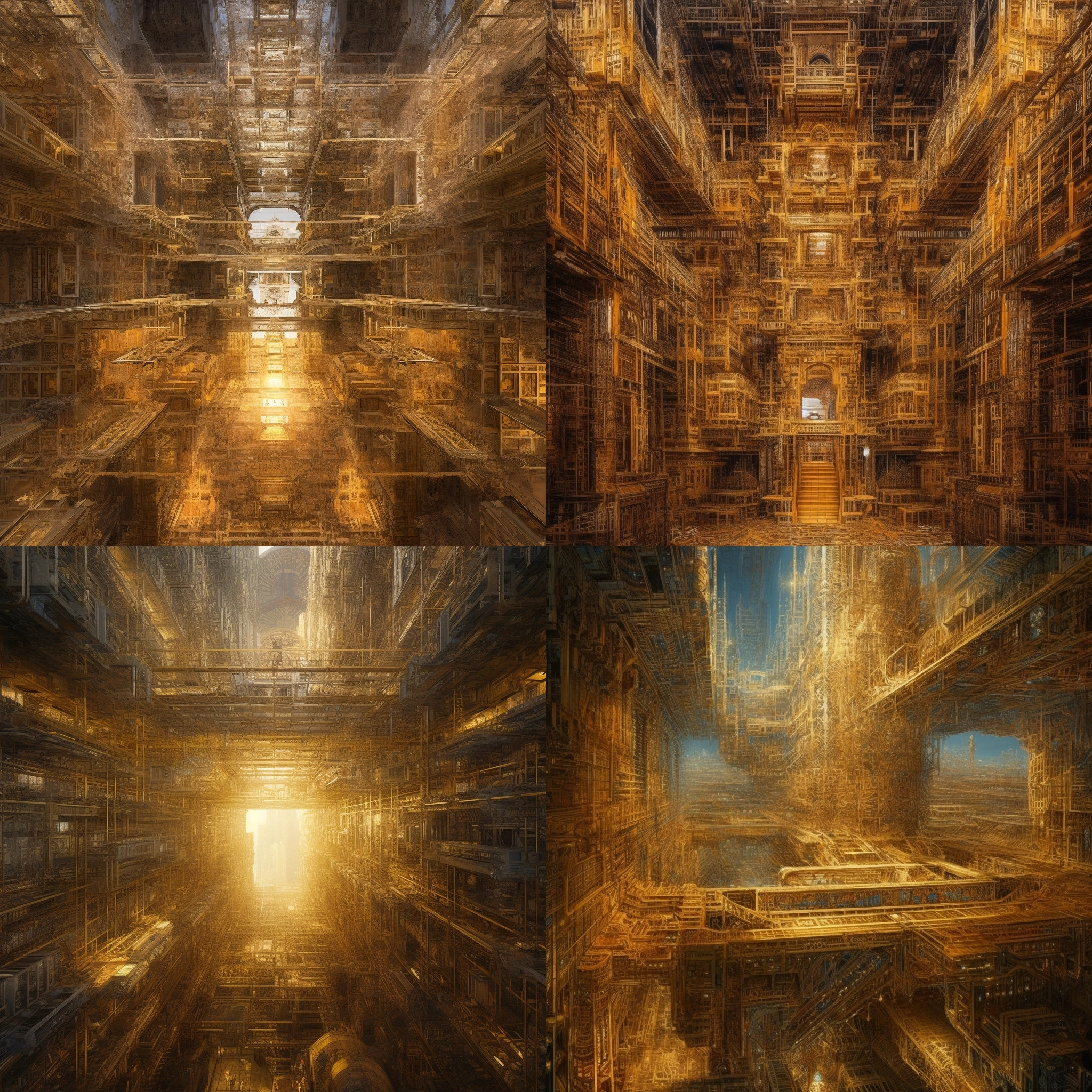 Not super impressed with the previous prompt, but good enough to run at a higher quality. This is almost giving me an industrial feeling. Not sure how I feel about that. Is the AI flattering itself? Or is this a sign of things to come?
Prompt:
Looking up at an impossibly huge kowloon walled city, in the style of a bride adorned for her husband, made of transparent gold glass, luminous::1.618 divine design, divine construction::1 new jerusalem, fractal complexity::0.618 death, slums, sorrow, pain, night::-0.3 --v 5 --s 500 --q 1.5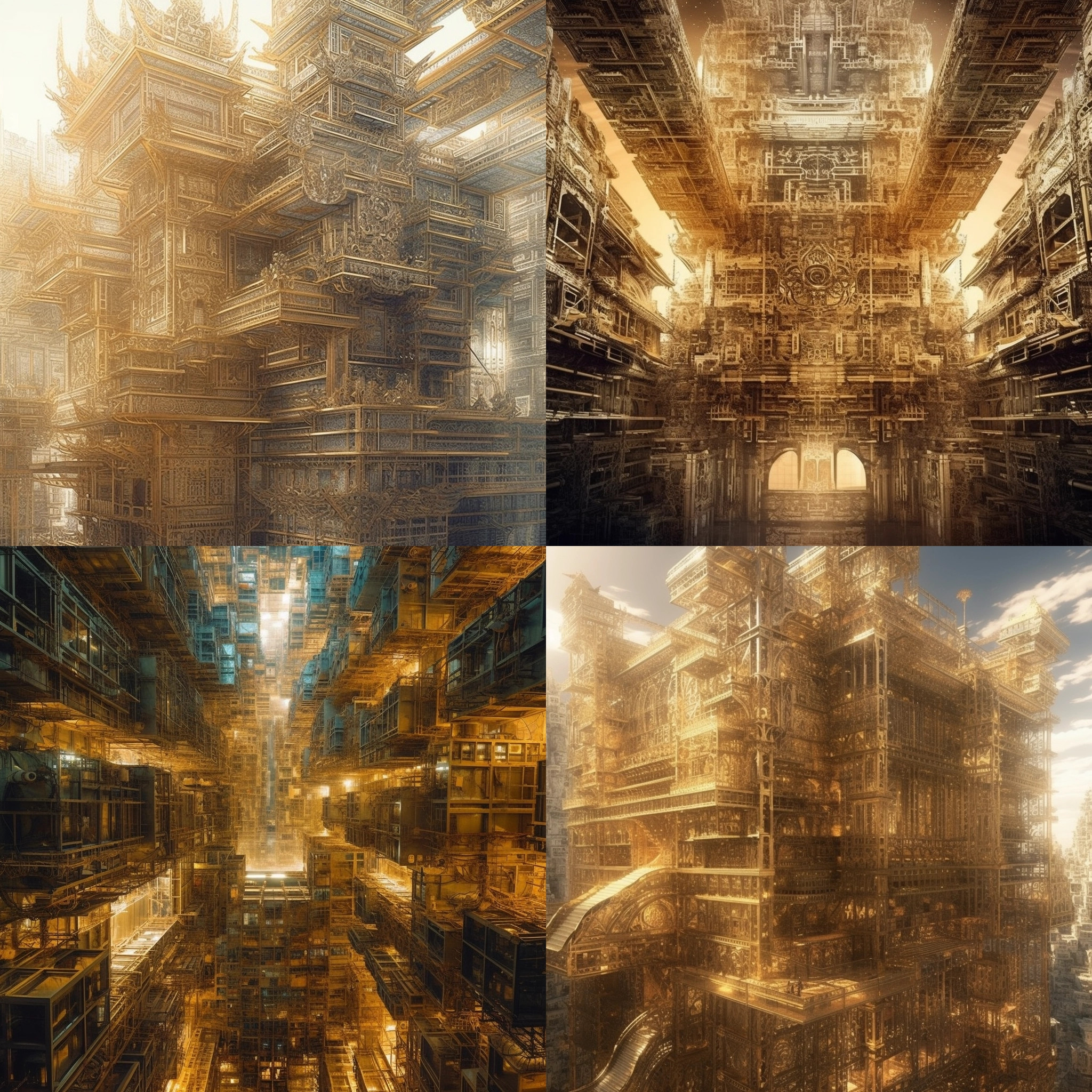 I tried the Anime style, which is very pretty.
Prompt:
An impossibly huge gold city descending from God in heaven, in the style of a bride on her wedding day, flowing out from the city is the river of life, twelve trees beside the river --niji 5 --q 0.5 --style scenic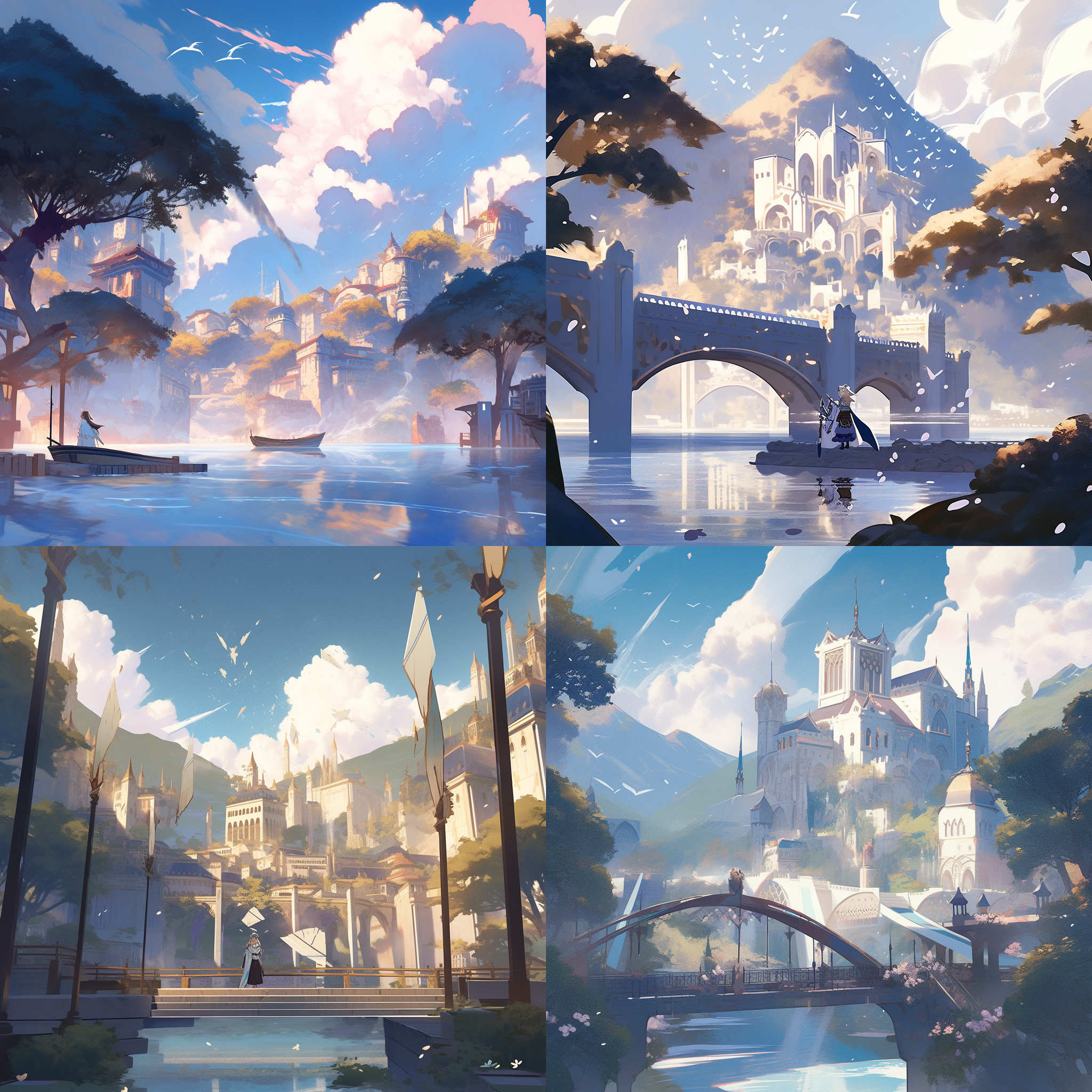 Not enough gold. MOAR GOLD!
Prompt:
An impossibly huge gold city descending from God in heaven, in the style of a bride on her wedding day, flowing out from the city is the river of life, twelve trees beside the river, made of pure gold --niji 5 --q 0.5 --style scenic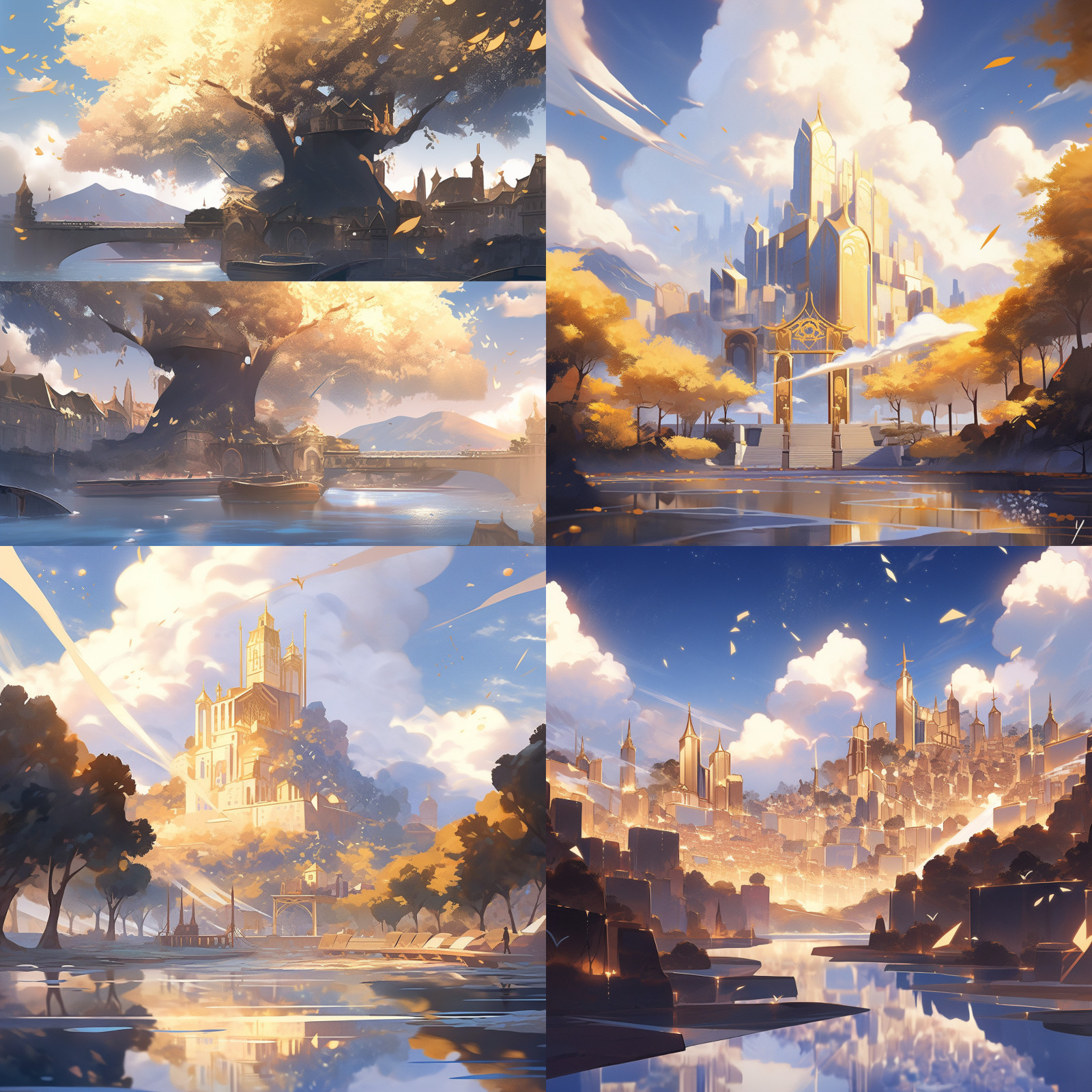 Trying to get more city and more light. Where are the control levers on this thing?
Prompt:
The center of an impossibly huge gold city from God in heaven, in the style of a bride on her wedding day, the river of life, twelve trees beside the river, made of pure gold, luminous, divine design, divine construction, transparent --niji 5 --q 0.5 --style scenic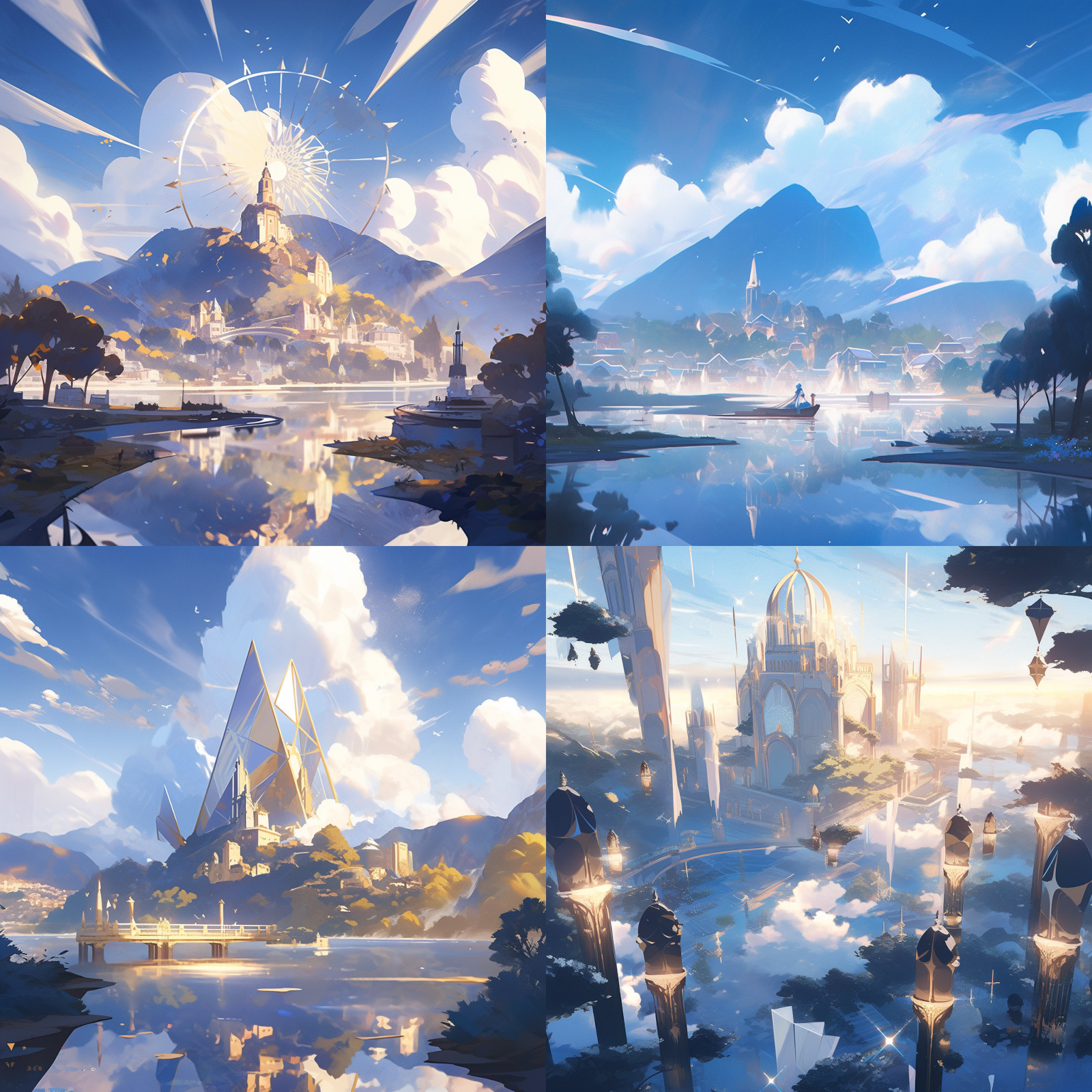 Took out the "scenic" style, but it's still too dark, like it's at night or sunset (I should have taken this hint sooner!).
Prompt:
The center of an impossibly huge gold city from God in heaven, in the style of a bride on her wedding day, the river of life, twelve trees beside the river, made of pure gold, luminous, divine design, divine construction, transparent --niji 5 --q 0.5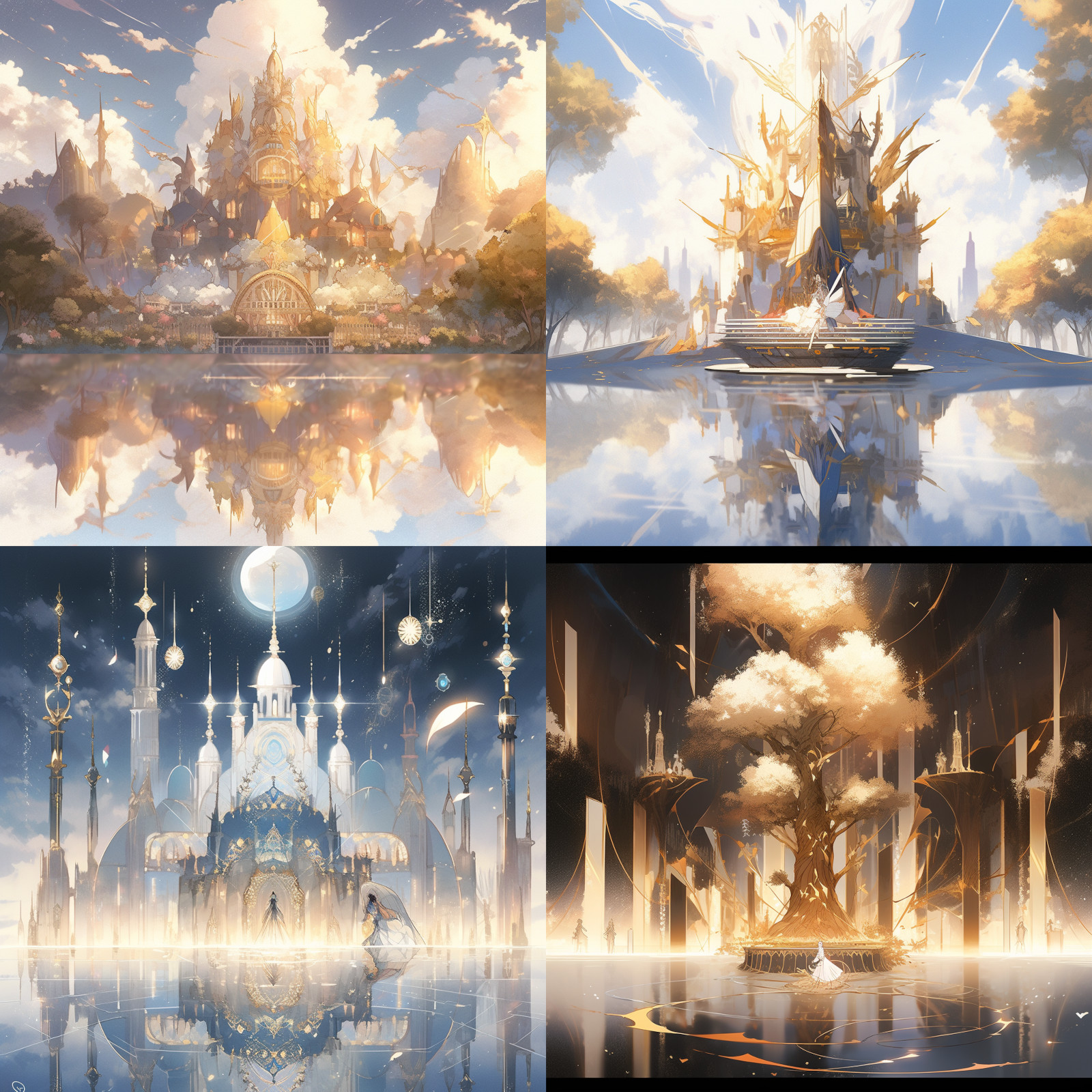 The two divine aspects help, but it still looks like night or dusk. Removed "the center of" since it doesn't seem to be pulling any weight.
Prompt:
An impossibly huge gold city from God in heaven, in the style of a bride on her wedding day, the river of life, twelve trees beside the river, made of pure gold, luminous, divine design, divine construction, transparent --niji 5 --q 0.5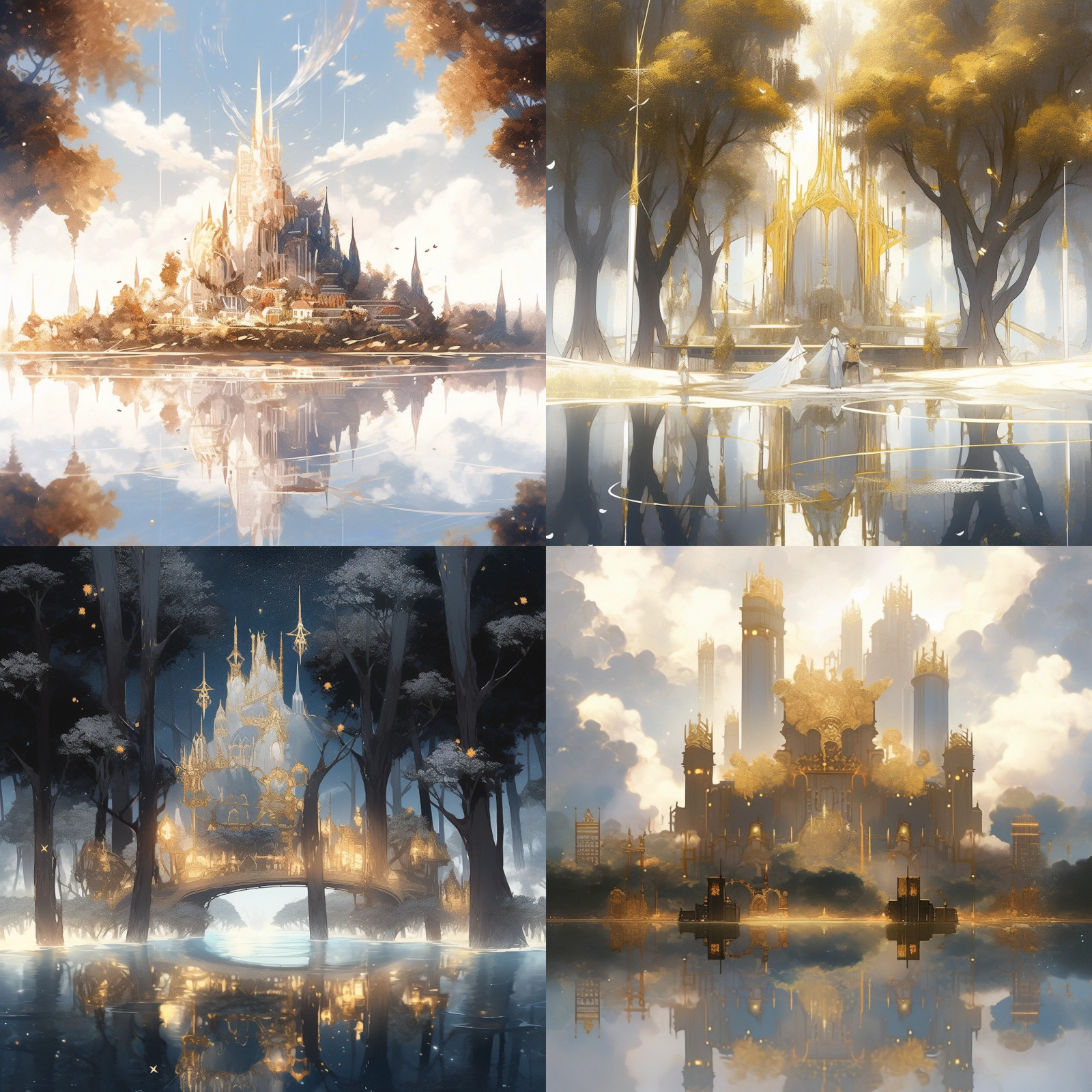 Here we go! Exclude death, slums, sorrow, pain, and most importantly night!
Prompt:
An impossibly huge gold city from God in heaven, in the style of a bride on her wedding day, the river of life, twelve trees beside the river, made of pure gold, luminous, divine design, divine construction, transparent::1 death, slums, sorrow, pain, night::-0.3 --niji 5 --q 0.5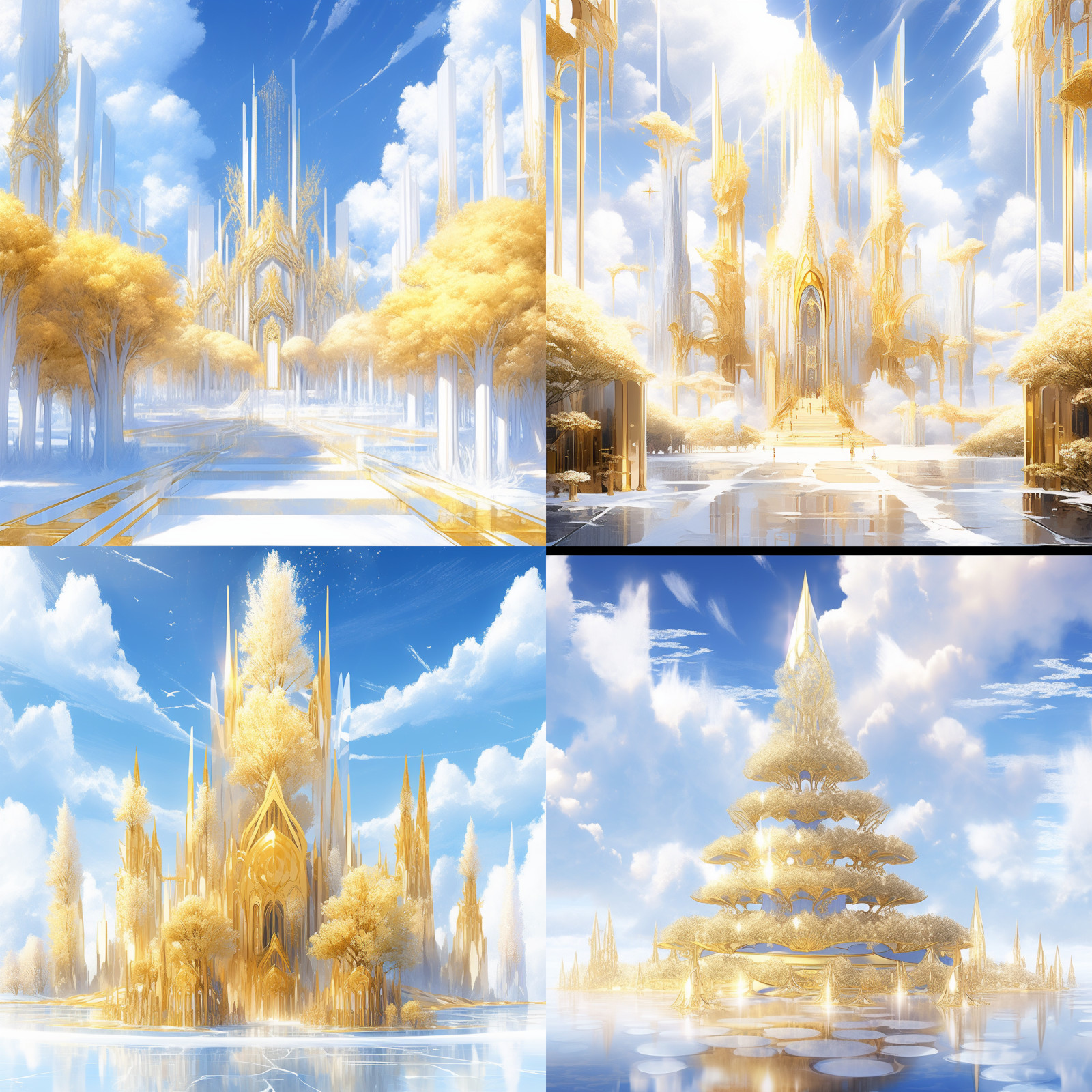 Identical prompt just to see some variations. Neat to see some pyramidial structures even though I didn't ask for them.
Prompt:
An impossibly huge gold city from God in heaven, in the style of a bride on her wedding day, the river of life, twelve trees beside the river, made of pure gold, luminous, divine design, divine construction, transparent::1 death, slums, sorrow, pain, night::-0.3 --niji 5 --q 0.5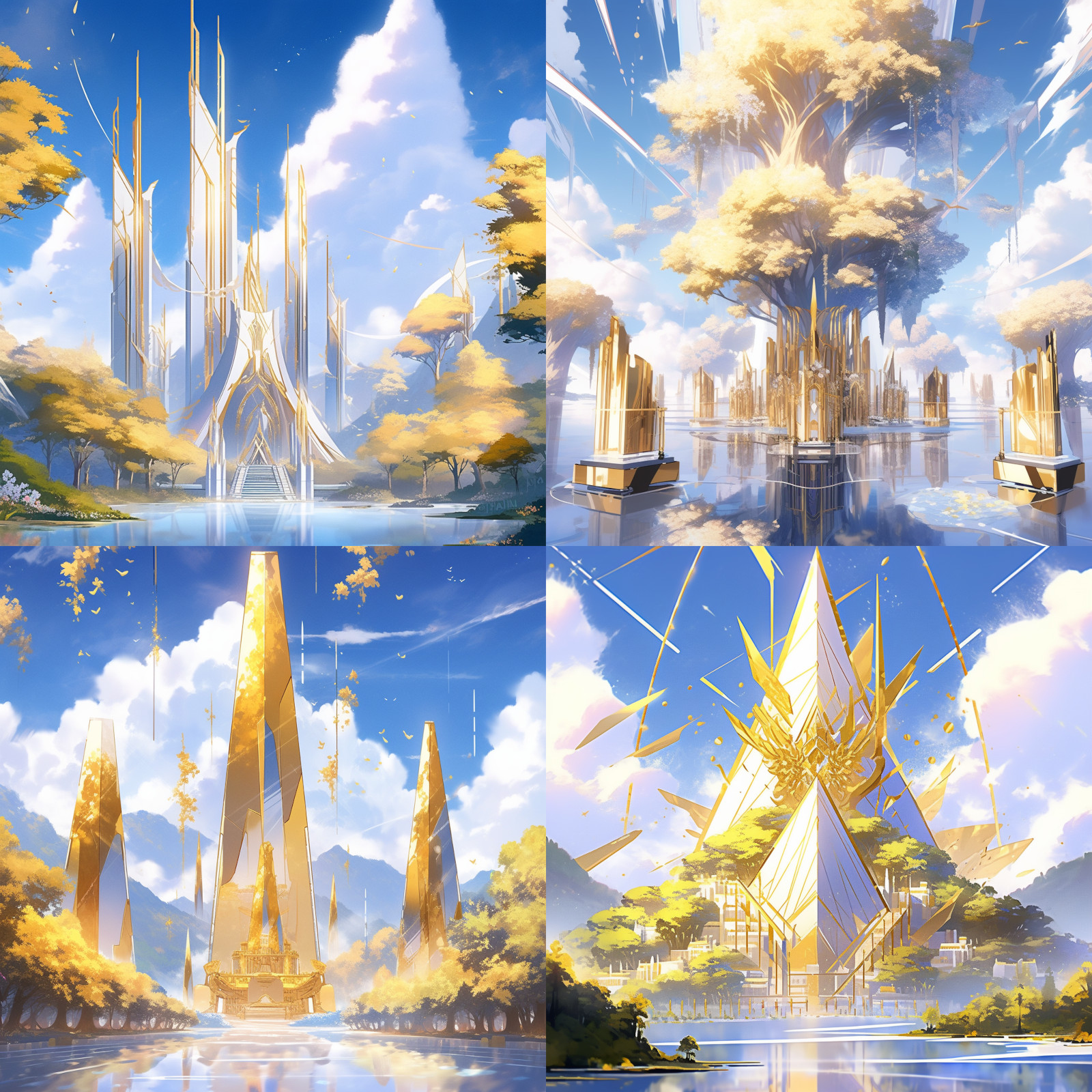 Same prompt, threefold quality. I'm a bit miffed that the towering spires are back, but otherwise these are majestic.
Prompt:
An impossibly huge gold city from God in heaven, in the style of a bride on her wedding day, the river of life, twelve trees beside the river, made of pure gold, luminous, divine design, divine construction, transparent::1 death, slums, sorrow, pain, night::-0.3 --niji 5 --q 1.5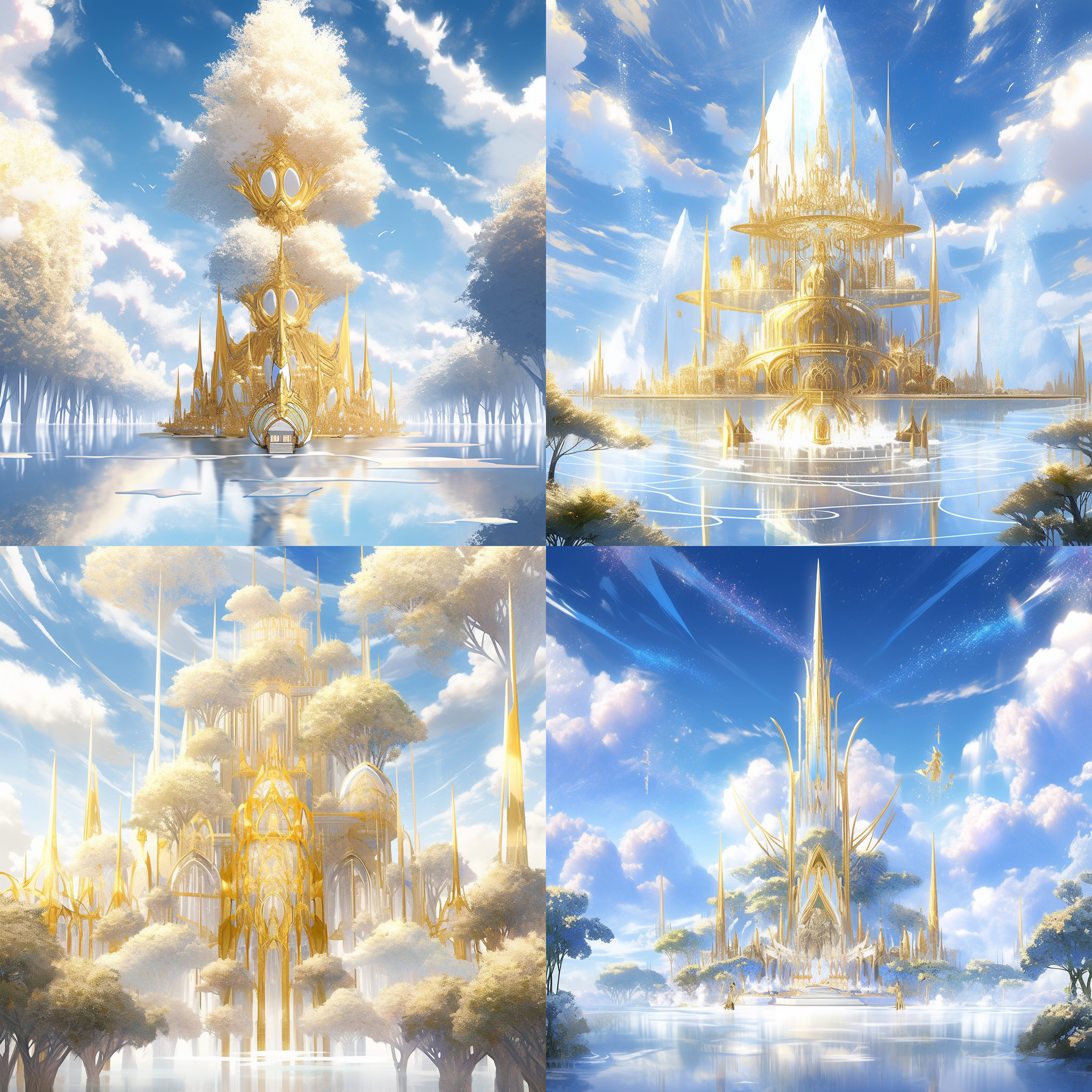 As I was in the process of putting this page together, Midjourney came out with version 5.1 of their engine, so I had to try it out. Beautiful results!
Prompt:
An impossibly huge gold city from God in heaven, in the style of a bride on her wedding day, the river of life, twelve trees beside the river, made of pure gold, luminous, divine design, divine construction, transparent::1 death, slums, sorrow, pain, night::-0.3 --v 5.1 --q 0.5 --s 500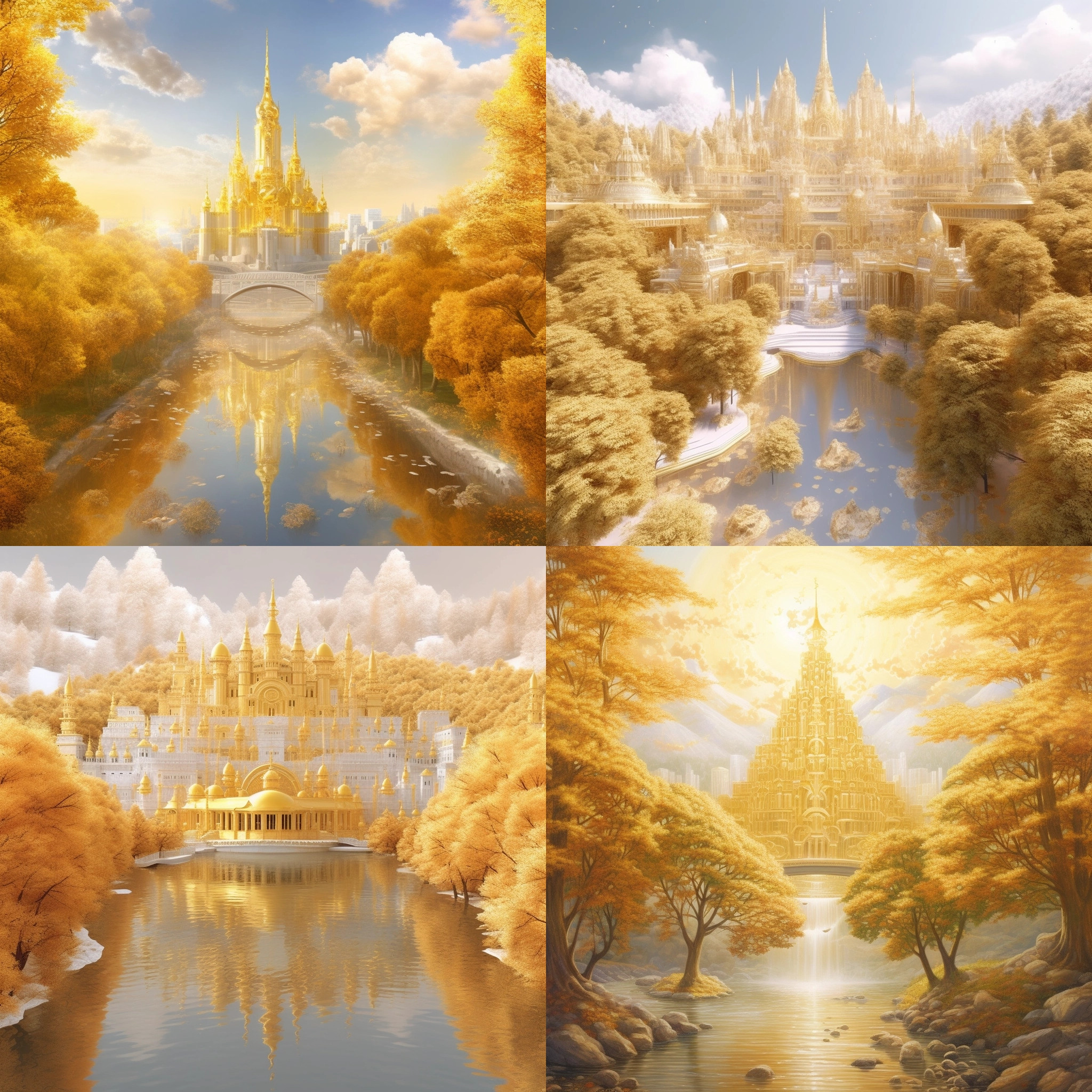 Added kowloon walled city to the prompt text, also with great results. I especially like the one in the bottom-right which seems to have the city continuing on into the background as one would expect from a 1,400 mile wide city.
Prompt:
An impossibly huge gold city from God in heaven, in the style of a bride on her wedding day, kowloon walled city, the river of life, twelve trees beside the river, made of pure gold, luminous, divine design, divine construction, transparent::1 death, slums, sorrow, pain, night::-0.3 --v 5.1 --q 0.5 --s 500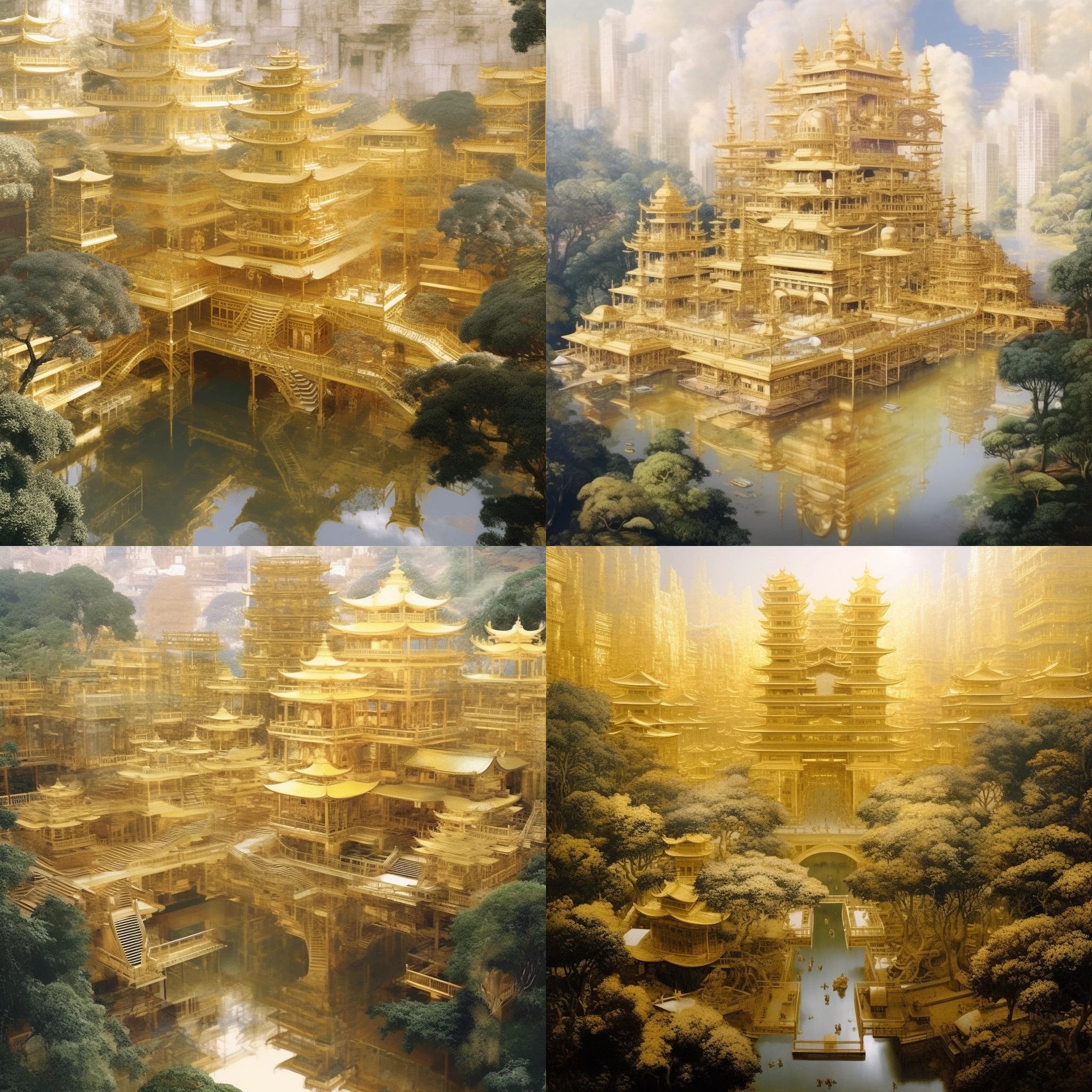 Navigation Links
Level Up to CG Art
Gallery Root
Back to Peripheral Arbor Homepage